A tale of two cities (and their police departments)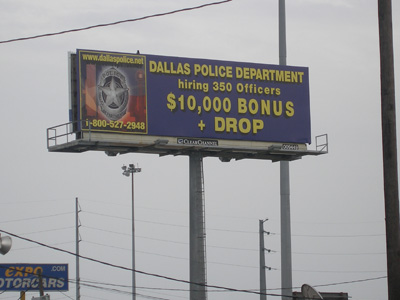 This billboard is located just off 59 between Fountain View and Chimney Rock. It isn't the first time Dallas PD has tried recruiting in Houston, but this is the first time I've noticed the $10,000 bonus. Embarrassing, to say the least, but hopefully the $1 billion+ allocated for public safety next year will do something about our own recruiting woes.
A side-by-side comparison of salaries and benefits for police officers in Houston and Dallas showed why they think they can get away with this. In Dallas, the base pay for police trainees is $41,690 (plus the $10,000 bonus). In Houston, the same trainee would make just $29,164.59. Things even out a little more after that, but being a cop in Dallas doesn't sound too bad - except, of course, the Dallas part.
Edit: Be sure to read the comments for Matt Stiles' explanation of the disparity in salaries. It's not as dismal for Houston as you'd think. Thanks, Matt.
Posted by Alexandria Ragsdale on July 02, 2007 to Crime and Punishment