Looscan Library ribbon-cutting (with photos)
Yesterday afternoon there was a ribbon-cutting ceremony for the new Looscan Library at Willowick and Westheimer. Brief remarks were made by Rhea Brown Lawson, the HPL Director; Mayor White; Council Member Pam Holm; Bonnie Brooks, the President of Friends of Neighborhood Libraries; and Franklin D.R. Jones, Jr., the Chair of the Houston Public Library Foundation. Mayor White received a standing ovation when he got up to speak and made a joke about how nice it is to receive a standing ovation for spending taxpayer dollars. He also called libraries our "secular temples," and encouraged everyone to support their local libraries by volunteering and treating them well. Much thanks was given to Pam Holm and Bonnie Brooks, who were both instrumental in getting this library built.
And what a library it is! Franklin D.R. Jones said that the new Looscan Library is "a model for how we will move forward and make our libraries better," and after touring the Looscan branch, I'm really excited. The library is huge - 20,000 square feet - and includes lots of computers, meeting rooms, reading rooms, and books. There are also very comfortable chairs with built-in speakers. You check out a chair, as you would a computer, choose what you want to listen to on a computer, then sit down and enjoy. All the pictures I took yesterday are viewable here, including this one of the ribbon-cutting: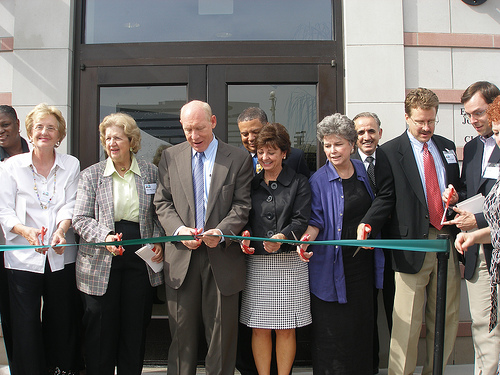 I grew up with Walter Branch, which serves a very diverse population. Walter is small and not really conducive to spending a lot of time there. Most of my interaction with that library was putting books on hold online and picking them up there when they were ready. I'd be so excited to see more libraries (like mine) start to look like Looscan - big and inviting. And I really can't wait for Central to be finished. After seeing the new Looscan, I might finally buy that it's worth the wait.
Posted by Alexandria Ragsdale on September 06, 2007 to Elsewhere in Houston