Melissa Noriega With DFA's Jim Dean Thursday Night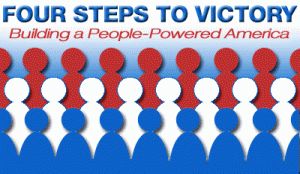 Forty-two people have already rsvp'd to participate in Jim Dean's Four Steps To Victory Tour stop in Houston on Thursday night. The event also features Houston's newest City Council member, Melissa Noriega. You can rsvp here.
Event details:
Date: Thursday, October 4, 2007
Time: 6:30 PM
Where: Kobain's
Address: 33 Waugh Drive
City: Houston
State: TX
Zip Code: 77007
Phone Number: 713-864-8080
Kobain's is behind Chatter's in the Heights.
Should be a fun event with lots of Houston activists. Democracy For America folks are good people, and hearing DFA chair, Jim Dean (Howard Dean's brother), speak is a not to be missed opportunity.

Posted by Martha Griffin on October 03, 2007 to Show Business for Ugly People