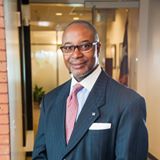 Like the Mayoral race, the 2015 race for City Controller is wide open, as incumbent Ronald Green is term-limited. There are three candidates of which I am aware so far – HCC Trustee and former At Large city Council member Carroll Robinson, who formally announced his entry last November; 2013 Controller candidate Bill Frazer, who hasn't made a formal announcement of which I am aware, but whose campaign website is still live; and Metro Board member Dwight Jefferson, who was kind enough to publicly acknowledge his interest in the office yesterday. I have heard other names bandied about for this office as well – former Council member and Mayoral candidate Peter Brown has come up in conversation, and I have heard rumors that Some People are trying to get Council Member Stephen Costello to switch races to this one – and I'm sure there are other possibilities.
As far as finance reports go, the only ones to reference are for Robinson and Frazer. Robinson has to file biannual reports as an HCC Trustee. They don't have their January reports posted yet on the HCC Trustees website, so the best I can do for now is his July 2014 report. Frazer still has a city account from 2013, so he has a report on the city's website.

Name           Raised    Spent      Loans    On Hand
====================================================
Robinson        1,820    3,700     25,000     21,637
Frazer              0    3,503          0        160

Green               0   14,402          0     28,563

Incumbent Ronald Green's totals are included as well for comparison. Not a whole lot to see here. Robinson was first out of the gate with a fundraising email on January 13, right after the injunction against the city's blackout ordinance was handed down, but that wouldn't have affected his January report anyway. Frazer ran a solid campaign in 2013 and gained a fair amount of traction against incumbent Green, who had some baggage to carry, but it's not clear how much of that will stick in an open seat race. Controller races are often low-key, and it wouldn't surprise me if one of the many Mayoral hopefuls makes the strategic decision to shift into this race, which if nothing else might provide a nice head start on the 2021 Mayoral campaign. And yes, my soul just died a little by the act of me typing that sentence. Anyway, this is what we have for now.
Related Posts: