It all comes down to Tuesday now:

Year       Dem      GOP
=======================
2008   177,088   64,431
2012    37,887   78,081
2016    85,816  131,145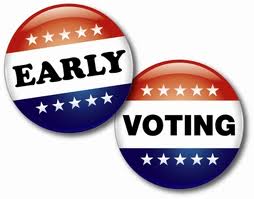 For your reference, the 2016 totals are here, and the 2012 totals are here, and the 2008 totals are here. You can still see the SOS archive for 2008, with the final Dem totals here and the Week Two Day Two GOP totals here. EV totals for the 15 biggest counties statewide through Thursday are here.
Hey, remember when I said " I wouldn't be surprised if 50,000 people vote today, 20K in the Dem primary and 30K for the GOP"? The actual last day totals were 20,362 Dems and 32,993 Reps. I'm a freaking genius. This keeps us on track for the same projections, which is to say about 165K Dems and 250K Republicans. Note that the actual early vote totals reported by the County Clerk on Tuesday night will be a bit higher than what we have here, as there are still several thousand mail ballots out. Some number of them will get returned by Tuesday. The only question at this point is what share of the vote has been cast and what is left to come, and how much the existing GOTV activities will affect that latter number. Have you voted yet?
Related Posts: