As you know, it's been a truly crappy year for women's health, family planning, and Planned Parenthood. All over the country there has been a relentless assault on reproductive freedom, which has spilled over into health care and access to health care, mostly for women. We've certainly seen it here in Texas between the House budget and its zeroing out of family planning funds and the Medicaid Women's Health Program. It's shameful and harmful and in the end will cost the state more money than they could possibly cut from the already meager budget, but none of that matters to this misogynistic crowd.
I'm glad to see that Planned Parenthood is fighting back, but let's be honest, the legislative battle is pretty much over save perhaps for a point of order or some other rulebook jujitsu. What matters now is winning the next election and sweeping as many of these troglodytes out of office. I had the good fortune last week to attend the Planned Parenthood Action Fund annual luncheon with a number of my blogging colleagues, and we were heartened to hear featured speaker and nationally known pollster Celinda Lake talk about how out of touch with the mainstream these radical actions are. But none of that means anything if those of us who care about it don't show up and vote accordingly. So if you sat it out last November, or if you voted Republican but without intending to send a "defund Planned Parenthood and cripple family planning and women's health" message, it's on you this time to not do that again. We can't afford any more of it.
With that, let me present a roundup of what was written about that luncheon. Lots of good stuff here from:
Nonsequiteuse, and Nonsequiteuse again.
Texas Liberal
Brains and Eggs
Hair Balls
Katrina Esco
Bay Area Houston
You should also read this AusChron story about what's been going on in the Lege with family planning and reproductive freedom. If you're not mad after reading all this, you need to get your blood pressure checked.
Finally, today is Texas Stands with Planned Parenthood Day of Action. It's probably a little late to get in on some of the action, but click on to see what you can do today and going forward. We need everyone to be involved.

Texas Stands with Planned Parenthood day of action is here! We need you to come to the Capitol or call or email your elected officials right now to ask them to support family planning and respect Texas women and families. There are just a few weeks left in the Texas Legislature to have your voice heard. Let your elected officials know how you feel about the recent attacks on Planned Parenthood and on women's health TODAY!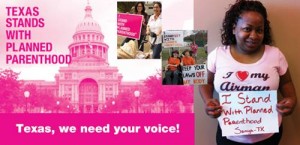 What you can do TODAY:
Contact your Senator!

Call 512-337-4020 right now. We'll prompt you on what message to deliver directly to your State Senator.
Send an e-mail directly to you State Senator asking them to support family planning funding and support Planned Parenthood.

Forward this e-mail!
Send this email to 10 friends and ask them to join you in supporting the health of Texas women and standing up for Planned Parenthood.
Tweet and change your Facebook status!
Show your friends and followers that Texas Stands with Planned Parenthood. Make sure to use the hashtag #TXPP.
Come to our rally at 5:00pm!
We will be rallying in Houston to show that Texans stand with Planned Parenthood! Email us at

[email protected]

for location information and further details.
Thank you for all you do! Your voice makes a difference!
Planned Parenthood Gulf Coast
Related Posts: