This was from a week ago.
The rain brings the city's official precipitation total for the year to 15.78 inches, twice the normal level, and a tally Houston didn't reach in 2011 until early November.

On Sunday, for the second time already this year, the city set a daily rainfall record. The day's total of 2.81 inches easily topped the previous record of 1.20 inches set back in 1903.
We in Houston are not quite out of drought yet, but we're very nearly there. Here's the picture as of March 13: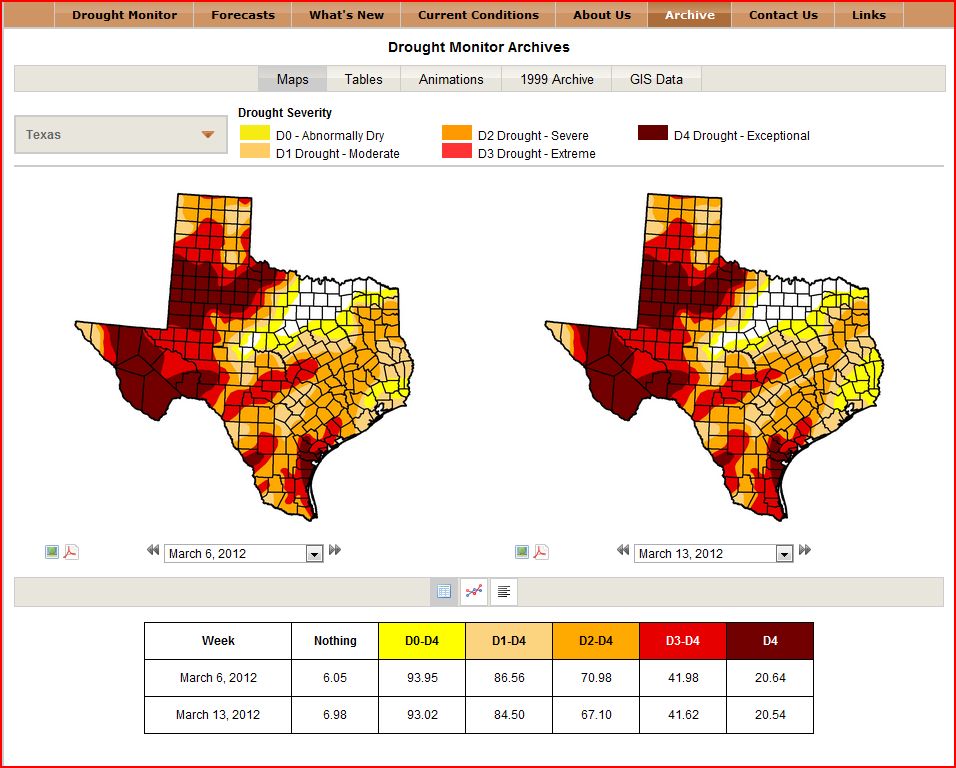 Compare to the beginning of the year, and see how much progress we've made. Looks like about a third of Harris County is now merely in "abnormally dry" status, which is one step below "drought". Only a small piece in the northwest corner of the county is in "severe" drought status.
We should all be happy about this, and with more rain coming (maybe), we could be even better off soon. But we shouldn't be too quick to celebrate.
Despite the rain, seasonal forecasters continue to expect drier-than-normal conditions for later this year.

The National Oceanic and Atmospheric Administration's seasonal forecast predicts there is an above-normal chance for March, April and May to be drier than usual.
Note that one year ago, the week ending March 8, 2011, none of the state was in Exceptional drought status. Today more than 20% of the state still is. Another dry spell like we had last year and we';; be right back in the oven. Except that it would be much worse, because we're starting off at a much lower position than we were then, and we still don't have a real plan to deal with it.
Data from various water utilities around the state shows a rise in 2011, compared with 2010. In both San Antonio and Dallas, average water use at single-family accounts rose by 17 percent in 2011 compared with 2010, and residential usage increased by the same amount in Fort Worth. In El Paso, per-capita water usage increased by 4 percent last year.

"There's not much rain coming down. And people really try that much harder to keep their lawns green and bushes growing and flowers sprouting, and that type of thing," said Ted Nelson, a spokesman for the water department in Corpus Christi, which also saw a rise in usage last year (as did San Angelo). In addition, Nelson said, people may use more water in anticipation of new restrictions. (Corpus Christi does not have restrictions, he said, but "we do always ask people to be conservation-minded.")

[Jennifer] Walker, of the Sierra Club, said that people who don't generally water outside tend to begin watering in droughts — and when residents are only allowed to water on one of two days during the week, there is a tendency to overwater.

[…]

The recent rains don't mean a relief from the drought anytime soon. For example, in Central Texas, Lake Travis is nearly 40 feet below its average level in March. So, while the precipitation is welcome, conservation advocates say it's not time to ease off of water-saving policies.

"Our population is growing, but our water resources are essentially finite," said Myron Hess, manager of Texas water programs for the National Wildlife Federation. "Unfortunately, with only a few exceptions, water use in Texas' cities remains far too high. There is nothing smart about failing to take advantage of these tried and true ways of increasing water-use efficiency."
I once again refer you to Drop By Drop and Sprayed Away. If we don't start using less water, we're going to have a lot less to use in the future.
Related Posts: