The following is from a series of guest posts that I have been presenting over the past few weeks.
Transformation of Buffalo Bayou Park, one of Houston's most iconic green spaces, is well underway. With an historic $30 million catalyst gift from the Kinder Foundation, a strong public-private partnership has been created to include Buffalo Bayou Partnership (BBP), City of Houston led by the Houston Parks & Recreation Department and Harris County Flood Control District. BBP has been charged with leading the enhancements of the 160-acre, 2.3-mile bayou stretch from Shepherd Drive to Sabine Street.
Likened to Houston's own Central Park, the ambitious $55 million project will:
Restore the bayou to a more natural and self-sustaining version of what exists today
Reintroduce native park landscape
Add amenities to enhance safety and visitor experience
After two years of design and engineering, trail work is being constructed and additional improvements are slated to begin this summer. The entire project is expected to be complete in mid-2015. Here's the Master Plan.
Buffalo Bayou Park Phase I Begins
Phase I work will be executed in two stages. The first stage includes a new pedestrian bridge at Jackson Hill, a new bridge and trails providing access to the Police Memorial, and a new footbridge, stairs and earthwork at the Crosby Outfall area at the intersection of Sabine Street and Allen Parkway.
The 345-foot Jackson Hill Bridge will be the first bayou spanning bridge to be built, and it will connect via a small plaza to the existing pedestrian bridge which crosses over Memorial Drive. Similar in aesthetic to the Hobby Center Bridge, it will provide a safe and convenient route for cyclists and pedestrians to cross over Buffalo Bayou. A trail connector to the east and a footpath connector to the west will also be added.
Improvements planned at Sabine Street and the Crosby Outfall will complement the existing trail into Eleanor Tinsley Park. The new footbridge will be 53 feet long and stairs will be upgraded to resemble those at the Sabine Promenade.
Phase I construction is expected to be completed by September 2013.
Harris County Flood Control District Begins Work at the Police Memorial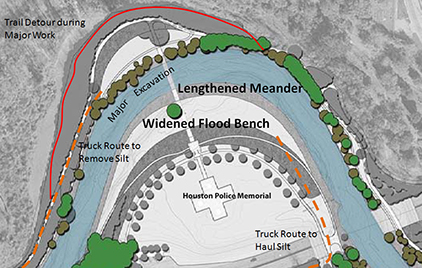 In August, the Harris County Flood Control District will start its channel conveyance restoration project. Work includes restoring the conveyance capacity of the bayou by removing accumulated sediment, repairing erosion and stabilizing bank failures. The District will also conduct selective clearing to remove invasive vegetation and, ultimately, implement a tree planting plan.
The District's work will begin on the bayou's north bank near the Police Memorial (north of Memorial Drive) and then proceed in seven phases to Shepherd Drive. This work will continue until late 2014 and is a continuation of the successful Pilot Project the District completed in 2010.
Overall, trail use in this area should not be heavily impacted. However, trails may be temporarily closed due to construction traffic crossing the trails. During these times, the construction contractor will have flagmen on-site directing pedestrian and vehicular traffic. Canoeists and kayakers should note there will be times when the bayou will be closed for safety reasons due to the construction.
South Bank Trail Closure at Taft & Allen Parkway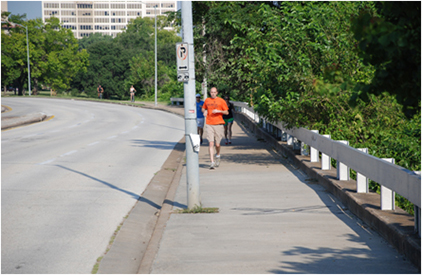 The Texas Department of Transportation (TxDOT) and the City of Houston continued work on the 4.6-mile Sandy Reed Memorial Trail on the south side of the bayou at Taft and Allen Parkway, extending eastward to Sabine Street. Trail users: Please note that for safety reasons the trail on the south side of Buffalo Bayou at Montrose (on the west) and Sabine (on the east) will be closed through approximately October 2012. Trail users are asked to stay on the north bank trails or detour from the south across the Rosemont Bridge.
The Water Works Cistern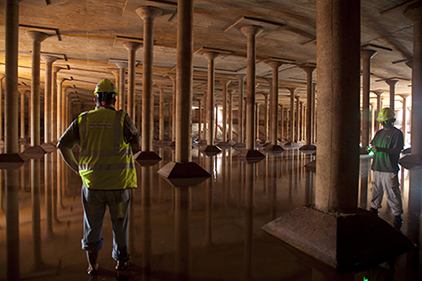 In early January, the Houston Chronicle highlighted one of Buffalo Bayou Park's most fascinating features. Below the signature lawn being developed as The Water Works performance area, north of the existing Lee and Joe Jamail Skate Park, sits an unused City of Houston water reservoir. This 100,000-square-foot area has enormous potential. While there is currently no funding to develop the "Cistern," as it has been dubbed, Houston-based SmartGeoMetrics has volunteered to produce 3D imaging of the cavernous space. Their work will help BBP accurately document the Cistern's current as-is condition, conceptualize ideas for developing the space, and, with luck, facilitate funding. Imaging is expected to be completed by late summer. SmartGeoMetrics' imaging will be given to the University of Houston's Texas Learning and Computation Center (TLC2) who will vet a web-based public ideas process to come up with creative and sustainable potential uses. Stay tuned for details on this public ideas process!
Behind the Scenes: Familiar Faces-SWA Group
Friends of Buffalo Bayou Partnership will recall SWA Group leading the award-winning Sabine Promenade Project. SWA Group is once again collaborating with Buffalo Bayou Partnership on the design of Buffalo Bayou Park improvements. As one of the world's top landscape architecture and planning firms, SWA has designed countless projects in Houston and around the world. Their work includes revitalization of the landscape architecture of Hermann Park and framework planning for Houston's Brays Bayou Corridor, among others. The Buffalo Bayou Park team is led by President Kevin Shanley, who has been involved in innovative flood management projects along a majority of Houston bayous. Rounding out the skilled team are Scott McCready, lead designer, and Tim Peterson, project manager.
For additional information on the Buffalo Bayou Park Shepherd to Sabine, click here.
To read more of the July/August 2012 In the Works e-newsletter, click here.
To sign up to receive Buffalo Bayou Partnership's monthly e-newsletters, click here.
Trudi Smith is the Director of PR and Events for the Buffalo Bayou Partnership. The Buffalo Bayou Partnership is the non-profit organization revitalizing and transforming Buffalo Bayou, Houston's most significant natural resource.
Related Posts: