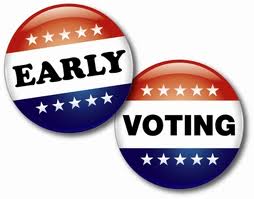 It began yesterday, but I forgot to queue up a post in time to mention it. Here's some relevant information for those of you who need to get out and vote in one or more of these runoffs.
For SD26 and HD123, here are the Bexar County early voting locations. The Bexar County Elections page is here as well.
For HD17, here are the early voting locations for Bastrop County, Caldwell County, and Lee County. The Bastrop County Elections page is here, and they already have Election Day voting locations up as well. Both the Caldwell and Lee pages have early voting and election day locations. As for Karnes County and Gonzales County, you'll need to call the elections administrators for information, as you had to do for the January election.
For HD13, here are the early voting locations for Burleson County, Colorado County, Fayette County, Grimes County, Lavaca County, and Washington County. All of those pages also have Election Day locations, except for Fayette and Washington. I could not find information for Austin County, so call the elections administrator there for the scoop.
Googling around on the candidates' names, I found basically zero new information since the original election, except for a couple of stories relating to the SD26 runoff. The only endorsements I found, as was the case in January, was from the Express News, which reiterated their choices from the first round.
In the Senate race, we recommend Rep. Trey Martinez Fischer to replace mayoral candidate Leticia Van de Putte.

The district will be in good hands regardless of who wins the showdown between Martinez Fischer and Rep. José Menéndez. Both Democrats who have been in the House since 2001.

But Martinez Fischer's strong leadership ability unequivocally makes him the right choice for the Senate.

[…]

We strongly encourage voters to cast their ballots for former City Councilman Diego Bernal, who faces Republican Nunzio Previtera.

Bernal represented San Antonio's City Council District 1 from 2011 until resigning late last year to seek the House seat. During his tenure at City Hall, Bernal showed courage by successfully sponsoring a highly controversial nondiscrimination ordinance that provided new protections for sexual orientation, gender identity and veteran status.

The 38-year-old Bernal also played a lead role in creating an advisory panel to study the future of Alamo Plaza. The city has failed to nurture the downtown asset, and Bernal's efforts have revived hope for real improvements. This is an issue of statewide importance.
They also had a recent story about how Bexar Dems are dismayed by the negativity in the all-Dem SD26 runoff. Those of us who remember the SD06 special election from two years ago feel their pain. I figure turnout will be less than or equal to the first round, so if you live in any of these districts, your vote counts for a lot. There are no Dems in either HD17 or HD13, but John Cyrier and Carolyn Bilski are backed by the Texas Parent PAC, and Cyrier's opponent in particular is aligned with the likes of Empower Texans, so even without a home team there's still a rooting interest. I'll keep an eye on the voting as we go. The Rivard Report has more.
Related Posts: