Here are your Day Five totals:

Year    Early    Mail   Total   Mailed
======================================
2015   48,027  21,141  69,168   42,938
2013   28,303  14,342  42,645   30,544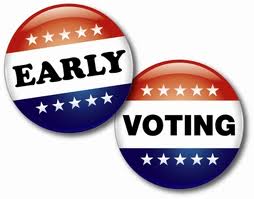 The running 2015 totals are here, the full 2013 totals are here, and for completeness the full 2009 totals are here. With one work week in the bag, it's clear that early voting is a lot brisker than it was two years ago. You might think that it portends a much higher level of turnout this year. You might be right, though as you know I have been cautioning against reading too much into these numbers. More people are voting early now than they used to, and some of what we are seeing is merely the result of regular voters getting out earlier than usual and/or shifting to early voting from voting on Election Day.
Now to be sure, we do expect some higher level of turnout this year, thanks to the contested Mayor's race and the HERO referendum. Indications I've gotten from people who have access to the daily voter rosters suggests that about 40% of the voters so far are not from the "at least two out of the last three elections" group. That's actually not much higher than what we saw in 2009, when 36.1% of voters had not participated in either 2005 or 2007. It's way too early to place your bets on what final turnout might be, but if I had to guess I'd lean more towards a modest increase, say from 180,000 to 200,000. Ask me again when the final early voting totals are in and I'll take another guess then.
There's another factor to consider here, and that's that the increase in early voting in Harris County is not unique. Take a look at the four-day early voting totals from this year and from 2013 for the state's biggest counties. The SOS is always a day behind on this, so all we have is the numbers through Thursday, but they tell the same basic story as in Harris County:

County   In person    Mail    Total    2013
===========================================
Harris      36,316  19,789   56,105  34,412
Dallas      10,558   1,570   12,128   5,649
Tarrant     10,713   2,601   13,314   6,939
Bexar       11,285   2,865   14,150   9,117
Travis       7,231     164    7,395   9,880
Collin       7,374     168    7,542   4,546
El Paso      3,081     968    4,049   1,583
Denton       4,388     315    4,703   3,455
Fort Bend    4,780     691    5,471   2,890
Hidalgo      3,456     211    3,667   4,661
Montgomery   5,779     429    6,208   1,483
Williamson   4,192     116    4,308   3,402
Galveston    2,222      58    2,280   1,264
Nueces       1,072      51    1,123   4,978

Total      112,447  29,996  142,433  94,239

As Harris County's EV totals are up 62% over the five day period, the top 14 counties have seen their four-day EV totals climb 51%. There's some variation in there – I'm not sure what is causing the dip in Travis County, and the huge increase in Montgomery County is surely the result of their second contentious road bond proposal of the year – but still, that's pretty sturdy. Harris County is up more than the overall total, and its increase is relatively larger if we take it out of the state total – the rest of the state's EV total is up only 24% – but it remains the case that more people are voting early everywhere, not just here. And as always, the lesson is to not read too much into what's happening in one place till we have more data.
Related Posts: