One week in:

Year    Early    Mail   Total   Mailed
======================================
2015   61,008  21,141  82,149   42,938
2013   37,928  14,342  52,270   30,544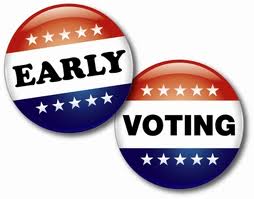 The running 2015 totals are here, the full 2013 totals are here, and for completeness the full 2009 totals are here. Sunday is the low volume day for early voting, as EV hours are only 1 to 6. Despite the weather, there were 800 more votes cast this year than in 2013, an increase of about 31%. That's a smaller rate of increase than we've been seeing, but it's still an uptick, so whatever the effect of the weather was, it probably wasn't that much.
Week two of early voting tends to be busier – in 2013, there were 50,000 in-person votes cast in the last five days. If that happens this year, then either Election Day will be rather quiet, or we'll have a healthy increase in turnout overall. Remember that these numbers are all Harris County, not just Houston – historically, about 70% of the vote in odd numbered years comes from Houston – and that there are city of Houston voters in Fort Bend and Montgomery Counties as well. I'll take a stab at guessing turnout later this week, once we see if historic trends hold or if the flame has burned out a bit. Have you voted yet?
Related Posts: