Here we go:

Date    Early    Mail   Total   Mailed
======================================
11/15   8,889  14,240  23,129   40,626
12/15  11,144  18,138  29,282   39,646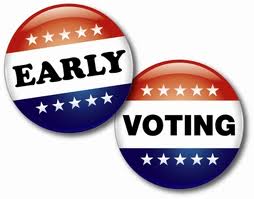 The runoff numbers are here, and the final EV totals for November are here. A couple of things to keep in mind here:
– There are only seven days of early voting in runoff elections, while there are twelve early days for November.
– Early voting hours are 7 AM to 7 PM every day except Sunday, while in November the hours for the first five days were 8 AM to 4:30 PM. You're going to get more votes with the longer hours. Moreover, the per-hour rate was higher in November (1,046 per hour) than in December (929 per hour).
– That said, November was all of Harris County, while December is Houston only. Taking that into account, given that about 70% of the vote was from Houston, the hourly rate for Houston only is higher for December.
So early voting is brisk, but it will have to pick up from here to keep up with the November pace, and even if it does the grand total wouldn't match the general election just because there won't be as many days for it. I'll have more ways to look at the data as we go along. Have you voted yet?
Related Posts: