Jim Henley
One more world to conquer in Harris County.
The future looked bleak for Texas' last remaining county education department in early 2019.

After years of state-level efforts to abolish the Harris County Department of Education, a new majority of trustees signaled they would take a more critical look at the agency's inner workings and whether it still served the core function of supporting local school districts.

Less than a year later, the entire makeup of the board has changed. Now a 5-2 majority of HCDE supporters oversee the department and its $128 million annual budget, a majority that could grow after the November election.

The two board seats on this year's ballot — two of the three at-large positions — are held by Republicans Don Sumners and Michael Wolfe, the remaining trustees who have been critical of the department in the past. Sumners is seeking re-election, and although Wolfe is not running for his old seat, his father, Bob Wolfe, is.

Sumners' Democratic opponent is David Brown, an educator who works for Change Happens, a Third Ward-based nonprofit that provides mentoring, drug prevention and other services to low-income youth. Democrat Erica Davis, chief of staff for Precinct 1 Constable Alan Rosen, is running against Wolfe. If Brown and Davis capture the two at-large positions, board president Eric Dick — who has opposed efforts to shut down the department — would be the lone remaining Republican trustee.

[…]

In recent decades, the department has been the subject of frequent criticism of some state and local conservatives who call it an unnecessary bureaucracy that would better serve districts if it were dissolved and its assets were given to local schools.

Republicans who shared that belief gained control of the board after the 2018 midterm elections and were quick to exercise their new role. Former trustee Josh Flynn was named board president during his first meeting in January 2019. Minutes later, the board voted to scrap a contract with a lobbying firm that represented HCDE interests in Austin.

They voted the following month to change the composition of an ancillary board that issues bonds and oversees construction contracts. They asked the board attorney to investigate the department's Education Foundation, then put an item on two meeting agendas to replace the same attorney with a representative from Republican state Rep. Briscoe Cain's law firm, an ally of the Republican trustees. The board ultimately kept its original lawyer after the item to remove her was tabled.

Tempers flared between the new majority and those who supported the agency. Trustee Eric Dick, the sole Republican on the board who supported HCDE, frequently exchanged terse words with the new majority, especially former President Flynn and Trustee Michael Wolfe. The tension came to a head after Dick reported that Wolfe had made sexual advances on a woman who had applied to become the board's secretary, and allegedly attempted to blacklist her among Houston Republican groups after she turned down his advances.

After reviewing a third-party report on the allegations commissioned by the board, trustees voted to censure Wolfe in April 2019, and Harris County Attorney Vince Ryan launched an investigation into the allegations. Wolfe has denied the allegations, and the county attorney has yet to release any findings.

Ultimately, the board's Republican majority was short-lived. Former Trustee George Moore resigned after moving out of Harris County in May 2019, and the board later appointed Democrat Amy Hinojosa to replace him. Flynn resigned in December that same year after his eligibility to run for the Texas House was questioned due to his position on the board. The board appointed Democrat Andrea Duhon to take Flynn's place, firmly shifting the board majority.

"I have to tell you, it seems like it's working like a well-oiled machine," Duhon said. "It's been fabulous not having to worry about someone coming in and trying to tear it all apart."

Sumners, Bettencourt and other Republicans have blamed Flynn for the shift in power. Though Republicans outnumbered Democrats for most of 2019, Dick sided with the Democrats amid an ongoing feud with the Republican trustees, resulting in a 3-3 deadlock that left the board unable to appoint Moore's replacement. Moore was barred from voting.

In December, however, Flynn skipped a meeting where trustees were set to appoint his and Moore's replacements. That allowed Dick and the two Democrats to appoint Hinojosa and Duhon.
See here for some background. I had wondered how it was that a board with a Republican majority managed to appoint two Democrats as replacement for departing Republicans, thus turning a 5-2 GOP majority into a 4-3 Dem majority. Pretty hilarious, if you ask me. It's only the second time in my memory that the Dems have had a majority on the HCDE Board. A brief history:
2006: All seven members are Republicans, after Dems failed to field a candidate in the Precinct 1 position (the incumbent, who had not drawn a primary challenger, withdrew at the last minute).
2008: 5-2 Republicans after Jim Henley and Debra Kerner win the two At Large positions that were on the ballot, as part of the initial Democratic breakthrough in Harris County. Kerner's opponent in that election, by the way, was none other than Stan Stanart.
2012: Erica Lee wins the Precinct 1 position, and Diane Trautman wins the third At Large spot, thus giving the Dems a 4-3 advantage.
2014: Republicans take back the two At Large positions they lost in 2008 and go back up by a 5-2 margin on the Board. Michael Wolfe, who had lost in 2012, and Don Sumners are elected.
2016: No change in composition, but Sherrie Matula loses the Precinct 2 race by a whisker. Eric Dick is elected in Precinct 4.
2018: Still no change in composition. Danny Norris succeeds Erica Lee in Precinct 1, Richard Cantu succeeds Diane Trautman in the At Large position, and Josh Flynn defeats Andrea Duhon by less than 2,000 votes for the Precinct 3 spot. While Republicans maintain a 5-2 majority on the Board, they now have a majority of Board members who want to undermine what the Board is doing.
Late 2019, after the filing period for 2020 closes: George Moore (who had defeated Matula by less than 500 votes in 2016) resigns for personal reasons, and Josh Flynn resigns (after a bit of a kerfuffle with the county GOP) to pursue the nomination in HD138 (he would lose the primary). As described above, Amy Hinojosa and Andrea Duhon are appointed, giving the Dems a 4-3 majority again. With the Dems favored to win the two At Large seats back, they would have a 6-1 majority for next year. Hinojosa will be up for election in 2022, and Duhon in 2024.
So there you have it. There have been some attempts in the Lege to curtail the HCDE , and it won't surprise me if there are bills to that effect filed in this session. Having a Dem House majority would block that. In the meantime, I don't know what has gotten into Eric Dick, but I approve. Remember to vote in these races, they will be way down at the bottom of the ballot. Any chance you get to vote against Don Sumners, you owe it to yourself to take it.
Harris County Democrats have one incumbent up for re-election: County Attorney Vince Ryan. The Chron gives their approval for another term.
[Ryan] said that he actively pursues pollution enforcement lawsuits against big companies – such as Volkswagen after it lied about emissions tests, or the corporations responsible for the San Jacinto waste pits. But in a state where legislators and regulators routinely erect barriers to citizens seeking justice from the industries that poison our water and pollute our air, Ryan's headlines over matters of public concern look more like necessary leadership than disregard for cooperation.

That's not to say Ryan hasn't been an important team player with other law enforcement agencies across the county. He's harnessed the power of the county attorney's office to go after dangerous gangs, sex traffickers and Kush merchants. He also helped the county cut through the Gordian Knot of same-sex marriage by quickly and clearly instructing judges to follow the U.S. Supreme Court after it held bans to be unconstitutionally discriminatory, yet refrained from hounding individual county employees who preferred to pass onto their coworkers the historic duty of marrying same-sex couples.

Running for his third term, the former District C councilman and longtime assistant under former County Attorney Mike Driscoll brings a steady and experienced hand to an important position that has a vast spectrum of responsibilities, including advising county officials, preparing contracts, defending the county from lawsuits and protecting communities through civil action. He's served the county well, and voters should keep him in office.
Other than some judges, Vince Ryan is the only Democrat elected countywide in 2008 to remain in office. Loren Jackson, who won a special election to fill the remaining term of District Clerk, lost in the 2010 sweep. HCDE At Large trustees Jim Henley, who resigned in 2014, and Debra Kerner, who lost in 2014, and Adrian Garcia, who stepped down as Sheriff to run for Mayor in 2015, followed. I feel pretty good about the Dems' chances of adding to that roster this year, but it starts with Vince Ryan.
In honor of Peggy Fikac, an update on who is running for what as a Democrat in 2014. Starting at the top, folks who attended the HCDP Johnson-Rayburn-Richards event on Saturday had the opportunity to meet Maxey Scherr, a 33-year-old attorney from El Paso who will be filing to run for Senate against John Cornyn. Art Pronin has a couple of pictures of her on his Facebook page – see here and here, assuming his security settings allow for that, and see here for a brief bio and video. I had a chance to meet Maxey on Friday thanks to Barbara Radnofsky, who was hosting her and introducing her around. She would be a first-time candidate, which is daunting to say the least at a statewide level, but she has some connections that will serve her well to get going. She is friends with both Rep. Beto O'Rourke and former Rep. Silvestre Reyes, and is good friends with and a former schoolmate of the daughter of John Cook, the former Mayor of El Paso who is now the Democratic candidate for Land Commissioner. Scherr's father James Scherr is a fixture in politics there and will apparently take a year off from his position as senior partner at their law firm to fundraise for her. I think she has the potential to raise a few bucks, which will be worth keeping an eye on. Rick Noriega took in about $4.5 million over the course of his candidacy in 2008; I think Scherr can top that. I also think she can take advantage of advances in technology and changes in the electorate and how to reach them to stretch those dollars farther. I expect her to run a progressive campaign geared at least in part towards voters of her own cohort, which is something we're not used to seeing in this state and which ought to provide a good contrast to an old-boy establishment figure like Cornyn. Look for more information and a formal announcement from Maxey Scherr shortly.
A bit farther down on the ticket, BOR confirmed something that I first reported two weeks earlier, that former Fort Bend Democratic Party Chair Steve Brown is exploring a run for Railroad Commissioner. From BOR:
In our exclusive interview, Mr. Brown spoke with me about his political history, including having served in the Clinton White House and how he was elected as chair of the Fort Bend County Democratic Party in 2010. He resigned the Chairmanship earlier this year when he began considering a run for elected office. He stated that he wanted to run for Texas Railroad Commissioner because the Commission needs an advocate for regular Texans while making sure people who are doing the right things in regards to oil and gas production are not being punished.

Mr. Brown stated his preference to see the Commission change its name to reflect that it is a regulatory commission over the energy sector, and not railroads. He also stated his desire to see stronger ethics rules implemented over the Commissioners. When asked about Republicans who cited federal oversight was a job killer, Mr. Brown responded that people who used that excuse were not being creative when it came to finding solutions. He pointed out again that one of the roles of a Commissioner is to punish bad actors who violate laws, not to give everyone a free pass.

Stephen Brown has been a great advocate for the Texas Democratic Party as Fort Bend County's Chairman and served the Party with distinction and honor.
There's an interview at the link, so go give it a listen. With Scherr and Brown jumping in, the one remaining hole among the non-judicial offices is Lt. Governor, where we are still waiting on a decision from Sen. Leticia Van de Putte. While she waits, as noted by PDiddie, Maria Alvarado, the 2006 Democratic candidate for Lt. Gov., has announced her candidacy. Good for her and all, but with all due respect, I'm still waiting for Sen. Van de Putte.
That still leaves judicial candidates. Via both Maxey Scherr and Attorney General candidate Sam Houston, whom I saw briefly on Saturday evening, El Paso District Court Judge Bill Moody, the top Democratic votegetter in 2006, will be running for Supreme Court again. Sam Houston told me that the TDP was working with other candidates for Supreme Court and that he expected the Dems to field a full slate there, though he didn't know what was going on with the Court of Criminal Appeals. This is the first news I've heard about the statewide judicial races, and it's reasonably encouraging. If you have heard anything about these races, please leave a comment and let us know.
Finally, in Harris County, we now have a Democratic candidate for the At Large HCDE Trustee position that Jim Henley vacated in June. Traci Jensen, who ran for the State Board of Education in 2012 and who had expressed interest in being appointed to fill Henley's seat, announced on Facebook that she would run for the position. Rumor has it that former Trustee Michael Wolfe, who was ousted by Diane Trautman last year, is seeking to reclaim a spot on the Board, so having a strong and well-qualified candidate like Jensen will be important.
Last but not least, Glorice McPherson is out collecting signatures to run for County Commissioner in Precinct 2, which would be against Jack Morman. McPherson ran against Steve Radack in 2012 in CC3, which puzzled me a bit at first, but her voter registration card indicates she lives in CC2, so I presume she moved in the last year or so. A lot of people have been talking about running in CC2 so I don't expect this will be the last word, but for now there is at least one candidate in the race.
That's all I've got. If you have any further rumor, innuendo, or actual fact about 2014, leave a comment and pass it on. Remember, the filing period begins November 9, so there's hardly time to catch one's breath after this election before the next one gets going.
Well, this is interesting. I received the following in my inbox on Friday afternoon:
Hello all,

Please see the information below:
"Yesterday, the Harris County Board of Education voted to appoint Mr. Howard Jefferson of the NAACP national board to fill position 7 in order to complete the remainder of Jim Henley's term. We thank Mr. Jefferson for his willingness to return to the Board and serve. We thank all of those who engaged in this selection process. Your passion for education for the children in our county is inspiring. Let us continue to do what's best for them!" – Erica S. Lee

Best,
Erica Lee, Pos. 6, Pct. 1
What makes this interesting is that Mr. Jefferson was not one of the six finalists that had applied for the job to fill the vacancy left by the resignation of Trustee Jim Henley. One can only speculate as to why the six remaining Board members went outside that list to find someone else. My speculation goes something like this: The six remaining Board members were split three Dems, three Republicans. The three Republicans did not want to appoint a Democrat who would then have the advantage of incumbency over a Republican candidate in 2014, when this seat is up for re-election. (Please note that I do not fault them for thinking this way, if in fact this was their thinking; remember, all of this is my own speculation. I'd have felt the same way if all of the applicants had been Republicans.) The logical compromise in a situation like this is to select a candidate who promises not to run for re-election. Enter Howard Jefferson, a well respected former Board member, whose last minute decision to not file for re-election in 2006 paved the way for Roy Morales to win the Position 6, Precinct 1 seat that Erica Lee now holds by forfeit. He's qualified, he's willing, he's a Democrat and thus will maintain the Board's pre-resignation 4-3 partisan balance, and I have been unofficially told he does not plan to run for election in 2014. I love it when a plan comes together.
Again, I want to stress – this is my own speculation. I am not privy to any official information, and no one has told me that this is how it went down. But we're all grownups here, so until someone flatly denies what I'm saying it's probably not too far from the truth. Be that as it may, Howard Jefferson is an excellent person to fill this role – I've reprinted the bio that came with the email announcing his appointment beneath the fold – and honestly, it's fine by me if the Democratic nominee is chosen by the voters next March. I hope a couple of the un-selected finalists give some consideration to making a race for it.
UPDATE: Here's the official press release on Jefferson's appointment. The key sentence: "The move comes after an impasse during board deliberations to appoint a replacement for Jim Henley, former HCDE trustee for position 7, who resigned his position." I'd say that's pretty strong inferential evidence for my speculation.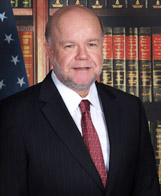 Via Stace, here are the six finalists to succeed HCDE Trustee Jim Henley, who is resigning his position as of when a replacement is chosen:
I know Sue, Rey, and Traci, and think any of them would be fine. Stace is supporting Rey Guerra; as he notes, the current Board lacks Latino representation. According to the Board Vacancy FAQ, the successor will be chosen at the next HCDE Board meeting on May 21. If you have a preference, you might want to contact your precinct Board member and the two remaining At Large members (Diane Trautman and Debby Kerner) and let them know.
On Sunday afternoon, I received the following statement from Jim Henley, who submitted his resignation as HCDE Trustee earlier this year:
I submitted my resignation as Trustee of The Harris County Department of Education in January of 2013. The Texas Constitution requires that I remain in office until the HCDE Board of Trustees appoints my successor.

I was elected in November 2008 to a six year term which will end in December of 2014. I have submitted to the board the name of a person who is uniquely qualified to complete my term, as provided by the law regarding the resignation of trustees. The board is not bound by my nomination.

My most significant contribution as a trustee was in leading the effort for an independent performance review of HCDE. It was the first such review in the recent history of the department. The review found HCDE to be effective and efficient in most of its services, while making recommendations for improvement in several areas.

While HCDE has been reluctant to embrace several of these essential recommendations, the department remains a vital resource to the twenty six independent school districts in Harris County. The current effort by opponents of public education (House Bill 945) to eliminate HCDE would decrease services to school districts while increasing their need to raise taxes. I urge the defeat of this ill-advised legislation.

The Texas Constitution prohibits trustees from being employed in public education. I have a passion for teaching and plan to return to the classroom as well as enjoy some time working on my farm. I am grateful for the trust the voters of Harris County bestowed upon me. I hope my conduct in elective office has been an example of honest and ethical public service.

Jim Henley

Trustee Position 7, At Large HCDE
See here and here for the background on HB945, which was heard in the Public Education committee on April 16 but has not yet come up for a vote in that committee. If I'm reading the Dates of Interest page correctly, if that bill isn't reported out of committee – that is, if it hasn't been voted out of committee – by next Monday, May 6, it's too late for it to be voted on by the whole House this session. As we know, such deadlines are not necessarily the last word in these matters, but it is an obstacle. Keep an eye on the clock. In any event, my thanks again to Henley for his service, and I look forward to hearing who he has in mind as a successor.
Got this in my inbox late Friday afternoon:
Trustee Jim Henley (Democrat at-large) submitted his resignation from the Board earlier this year.  The Harris County Department of Education Board will have an open application process to fill the remainder of his term that goes until January 2015.

The HCDE advertisement and FAQs regarding filling a board vacancy are now available via our website under FEATURED NEWS.  Applications are due Thursday, May 2, 2013 by 5 PM.

Link to our website:  http://www.hcde-texas.org (look under the headline FEATURED NEWS).

Direct link to the notices:  http://www.hcde-texas.org/default.aspx?name=BoardVacancy.
I haven't seen any reporting on this as yet. I've sent an email to Henley to ask him about it, and will update when I hear from him. In the meantime, if you've always harbored the secret desire to be an HCDE trustee, here's the Board Vacancy FAQ to tell you everything you need to know:
Q: How will the vacancy be filled?

A: The HCDE Board of Trustees approved procedures to fill the vacant position on April 23, 2013. Qualified applicants who would like to serve as an HCDE trustee must submit application packets by 5 p.m. on Thursday, May 2, 2013. If more than six applications are received, the Board will meet to screen the applications and select no more than six finalists to be interviewed by the Board of Trustees. If six or fewer applications are received, all applicants will be interviewed by the Board. The interviews are expected to take place on Monday, May 13, 2013, beginning at 3:30 p.m. and if necessary, continue on Tuesday, May 14, 2013, beginning at 3:30 p.m. Interviews will be open to the public, but only members of the HCDE Board of Trustees shall be permitted to comment or ask questions of the finalists.

Q: When will the HCDE Board of Trustees make its decision?

A: The HCDE Board of Trustees anticipates that the Board will vote to appoint an individual to fill the vacancy at its meeting on Tuesday, May 21, 2013.

Q: How long will the appointed trustee serve?

A: In accordance with former Tex. Educ. Code § 17.04, which governs HCDE, the individual appointed to fill Position 7 shall serve the unexpired portion of the Position 7 term that runs until November 2014, when elections will be held. If the appointed individual chooses to run for election, he/she may do so and if he/she wins, he/she would serve a full six-year term. If the appointed individual chooses not to run for election in 2014, he/she would serve until January 2015, when the elected trustee for Position 7 would assume office.
There's more, so click over if this interests you. I'm sad to see Henley step down – he's a fine person, and he did an excellent job on the HCDE Board. With his departure, the remaining Board is evenly divided among Rs and Ds, so party will not be the deciding factor in naming his replacement. As I said before, elections for these offices are pretty much determined by the partisan tide, though one presumes a candidate of either party that can get enough support to be selected might have a small edge on the margins. I thank Jim Henley for his service, and I wish the Board good luck in finding someone of his quality to fill out his term.
For the most part, it's way too early to start thinking about the 2014 Harris County elections – we have a legislative session and a city election cycle to get through first – but since January 15 is a reporting deadline for county officeholders, I figure I may as well have a peek at who has what. I'm only looking at offices that are up for election in 2014, so here we go.
County Judge Ed Emmett – $151,586 on hand.
Thanks to his graceful under pressure performance during Hurricane Ike and a generally low-key, get-things-done style, County Judge Ed Emmett has been the top-performing Republican candidate in two diametrically opposite elections, the Democratic wave of 2008 and the Republican tsunami of 2014. Assuming there are no similar forces at work next year, Democrats ought to be in pretty good shape countywide – as I've noted before, Democratic turnout was pretty decent in 2010 despite the butt-kicking – but if there's one person I'd expect to prevail on the R side even if there's a strong wind behind the Dems' backs, it's Judge Emmett. Assuming of course that he hasn't decided by then that he's had it up to here with all this stuff and makes a beeline for the private sector, in which case I'd expect a jumble of Dems lining up to run for this spot. I'm sure someone will run regardless, but barring anything unforeseen I'd make Judge Emmett the favorite going in.
County Clerk Stan Stanart – $16,869 on hand
Outside of the big three – County Judge, District Attorney, and Sheriff – countywide offices don't draw much fundraising attention, so don't read much into these numbers. That said, 2012 wasn't exactly a stellar year for Stan Stanart. I don't know how much people will remember that by next year, but as with Don Sumners it ought to provide his opponent (or opponents if he gets primaried) with a fair amount of ammunition. Talk of an elections administrator has predictably died down again, but if it pops back up that will just remind everyone of why we began speaking of it in the first place. Stanart has overseen the relocation of voting machines to a new home, and the county campaign finance reform page sucks somewhat less than it used to, but beyond that I can't think of any major achievements he's racked up. (If I'm wrong about that, please correct me in the comments.) Assuming we don't have an elections administrator by this time next year, I expect Dems to make this race a priority.
District Clerk Chris Daniel – $15,184 on hand
Unlike Stanart, Daniel has had a fairly quiet term as District Clerk. There was a fair amount of griping after Daniel defeated the well-regarded Loren Jackson in the 2010 sweep – Jackson was easily the top Democratic vote-getter that year – but for what it's worth I haven't heard any lately. Daniel has overseen the implementation of a new efiling system for pleadings in criminal cases, FREEfax, so he will have that to point to next year. If Daniel loses in 2014, his successor will be the fifth District Clerk since 2007, when then-District Clerk Charles Bacarisse resigned to challenge Ed Emmett in a primary for County Judge. Theresa Chang, now a County Court judge, was appointed to replace Bacarisse; she was defeated by Jackson in 2008, and Jackson was defeated by Daniel in 2010.
County Treasurer Orlando Sanchez – $1,141 on hand.
2014 will be another quadrennial opportunity to wonder just what the heck any Treasurer does in Harris County, and in particular just what it is that Orlando Sanchez, who was first elected in 2006, does. All I can tell you is that he has a delightfully minimalist webpage, and that this finance report does not include an expenditure on "Glamour" magazine.
County Commissioner Jack Cagle – $99,990 on hand.
Cagle was appointed in October of 2011 to replace the felonious Jerry Eversole in Precinct 4. He easily won a three-way primary and the ensuing November election to complete Eversole's unexpired term; this will be his first election for a full four-year term. I expect he'll build his campaign treasury up considerably over the next year or so, but it almost doesn't matter. Barring any Eversole-like behavior on his part, Cagle ought to be able to keep this job for the foreseeable future. Demographic change will eventually make Precinct 4 more competitive in general elections, but there's at least one more redistricting cycle in between now and that point. He's in for the long haul.
County Commissioner Jack Morman – $410,078 on hand.
This is, or at least it should be, the main event in Harris County in 2014. Morman's win in 2010 was fueled mostly by the Republican wave of that year, but as currently drawn, Precinct 2 is highly competitive, with a slight lean towards the GOP. We are still awaiting a ruling in the federal lawsuit over the County's redistricting plan. A full range of outcomes – a bit more Republican, a bit less Republican, exactly as it is under the interim map that was used last year – is possible for Precinct 2. The first question is who might run against Morman. To some extent, that may be determined by the result in the SD06 special election. Council Member James Rodriguez, whose is term-limited, is known to be interested in HD145 in the event Rep. Carol Alvarado wins a promotion to the Senate, but he has also expressed an interest in Precinct 2. I am certain he will not be the only person looking at this, and I for one will be a bit surprised if there isn't a spirited Democratic primary for the right to oppose Morman. Demography, the lawsuit, Democratic GOTV efforts, the number of first-time off-year Republican voters from 2010 who decide to make it a habit, and of course the candidates themselves will be among the factors in determining the winner here. Buckle your seatbelts.
HCDE Trustee Jim Henley – No report, since he has not had a campaign fund since 2008 and thus is not required to file these reports
HCDE Trustee Debby Kerner – $774 on hand.
Going into the 2008 election, Republicans held all seven seats on the Harris County Department of Education Board of Trustees. Henley and Kerner's 2008 wins in At Large seats, coupled with Diane Trautman's At Large win and Erica Lee's Precinct 1 win in 2012, transformed the Board into a 4-3 Democratic majority. If nothing else, that should tamp down on any talk about abolishing the agency, as that was something defeated member Michael Wolfe had pushed. HCDE Trustee is a fairly obscure office, with few resources available for candidates, so as with judicial and other low-profile races they are largely determined by partisan preferences. Henley and Kerner's overperformance in 2008 – both got 52% of the vote – serves as a reminder that downballot dropoff isn't always uniform. Still, they'll rise or fall along with the Democratic Party.
Besides Henley and Kerner, there is exactly one more Democratic incumbent slated for the 2014 ballot: First Court of Appeals Judge Jim Sharp, who carried Harris County by a sufficient margin to win a seat on that bench in 2014. Since then, he has drawn attention to himself in a number of non–positive ways, and as such it would not shock me if he were to face a primary challenge. Beyond that, it's all Republican judges, and the slate is bigger in non-Presidential years than it is in Presidential years. If Democrats manage to sweep or nearly sweep these races, I can only imagine how loud the call will be in certain quarters to change the way judges are selected; if Republicans mostly or entirely hold on, I figure the subject will be dormant until after the 2016 election. As has been the case since 2008, I'll be keeping an eye on the Appeals Court races. If Democrats can ever get a foothold on the First and Fourteenth Courts of Appeals, they'll be in much better shape to find candidates for the statewide bench in the future.
The Chron has an overview of the races for the Harris County Department of Education, and in describing the one At Large race between incumbent Michael Wolfe and Democratic challenger Diane Trautman they do the useful service of describing what the HCDE does.
The department supports the county's 26 independent school districts. It operates a co-op that allows the districts to buy food and supplies at lower prices. The department also runs adult-education programs, administers federal Head Start grants and Early Childhood Intervention programs, and supports after-school initiatives.

Most of the department's budget comes from state and federal grants and fees for service paid by the districts.

Trautman said her opponent wants to abolish the department and has been censured by the board for unethical behavior.

Wolfe acknowledged that he would support abolishing the department, saying that he believes taxpayers pay twice for education. The 2008 censure, he said, was in retaliation because he was pushing for lower taxes.

In 2009, the board tried to remove him from office because they said he had a disregard for the department and its procedures and disrespect for the board.
Here's what was said about Wolfe at the time:
Fellow trustee Jim Henley said the movement to oust Wolfe is based on his numerous absences and Wolfe's "lack of acting in the best interests of the department."

The board considered removing Wolfe for incompetence last year, but Wolfe appealed for a second chance and pledged to adhere to a list of ethical practices.

Henley said Wolfe has violated that pledge and continues to miss meetings without informing the board ahead of time of his absences — or explaining them afterward.

Board members voted 6-0 Monday night to seek Wolfe's ouster from the $72-a-year position.
See here, here, and here for more on this. Henley is one of only two Democrats on the board right now, so that means four fellow Republicans voted to pursue ousting Wolfe. If you think they did so because they didn't like him pushing for lower taxes, I'd say that's pretty naive. Plus, as you may recall, it wasn't just Wolfe's board colleagues who didn't like him. Read this letter from County School Superintendent John Sawyer to Wolfe from December of 2007 for a reminder of that. Wolfe is a clown, and in a just world he'll be sent back to the private sector in a couple of weeks.
The race for Position 4, Precinct 3, between Republican Kay Smith, who successfully primaried the more moderate Raymond Garcia, and Silvia Mintz, is frustrating to me.
In the Position 4 race, Smith, 61, a Republican, said she wants to bring more department transparency. She said it often is difficult to get information about operations and how money is spent.

"I want to know what we are doing with those tax dollars to ensure better education," Smith said.

Mintz, her Democratic opponent, did not return calls.

On her campaign website, Mintz, 38, said she entered the race because she believes it is important to "protect the American Dream through education."
Mintz ran for HD132 in 2010. She has a compelling personal story, and I was impressed by her when I interviewed her for tat race. She's the kind of person I'd like to see get elected to something. But I have no idea what she's doing in this race. She reported nothing raised and nothing spent on her 30 day finance report, after minimal activity on her July report. I made numerous attempts to reach her for an interview, but like the Chron never heard from her. Her campaign website appears to have been last updated in December, when she announced her candidacy. Her Facebook page indicates some activity, but that's about it. She would be a distinct underdog in this race, but then so are people like Paul Sadler and Traci Jensen and Cody Pogue, all of whom have run active, highly visible campaigns. All I can say is that I'm terribly disappointed. I wish I knew what was going on with her.
The strange saga of Harris County Department of Education Trustee Michael Wolfe takes another weird turn.
The Harris County Board of Education has voted to begin legal proceedings to kick Trustee Michael Wolfe off the board.

Fellow trustee Jim Henley said the movement to oust Wolfe is based on his numerous absences and Wolfe's "lack of acting in the best interests of the department."

The board considered removing Wolfe for incompetence last year, but Wolfe appealed for a second chance and pledged to adhere to a list of ethical practices.

Henley said Wolfe has violated that pledge and continues to miss meetings without informing the board ahead of time of his absences — or explaining them afterward.

Board members voted 6-0 Monday night to seek Wolfe's ouster from the $72-a-year position.
Again, I can't summarize this bizarre situation with just a link or two, so browse here to bring yourself up to speed. And if this wasn't weird enough, consider this:
Despite having three years left on his term as the Position 3 at-large trustee, Wolfe has filed to run in the March primary election against Board President Angie Chesnut for the Precinct 2 seat.
Fun fact: Wolfe defeated Andrew Burks for that seat in 2006. Yes, he'd be moving from a countywide position to a district position if he wins that race against Chesnut. There's a reason for that, which I'll get to in a minute. I sent an email to Jim Henley to clarify a couple of points that were not clear to me from the story. According to Henley, the way the removal process will work is that the HCDE's attorney will drawn up a petition for removal and submit it for board approval at the regular board meeting in January. If the board then approves the petition it will go to a civil trial with six jurors, and their verdict will determine Wolfe's fate. However, even if they wind up removing him, if he then wins the Position 3 election, he would be eligible to serve again. Clever of him, no? Of course, given that Wolfe recruited a couple of fellow travelers to (successfully) primary two of his Republican colleagues last year, it's likely also the case that he's doing this in part out of spite. So all in all, just another day at the office for Michael Wolfe.
Next up for review we have Annise Parker's education plan. I should note that while the press release about this plan came out last week, a lot of the ideas within the plan have been on the table for awhile. This statement from May that Parker put out in response to comments Peter Brown had made previously about forming an urban school district heavily influenced by the mayor through board appointments contains a number of the points raised in the issues paper. This revision has more specific ideas and goes into some more detail, which is always good to see. A few highlights:
It's About Working Together to Help Our Kids

There are 17 school districts within the borders of the City of Houston. Let's stop the bickering about taking over these schools and start working together to support them.
I take this as a shot across Brown's bow. For what it's worth, where there's divergence among the top three candidates on a specific issue, it seems to be Brown who goes his own way. Make of that what you will.
Most of the meat of Parker's plan is here:
Strong Schools Partnership. As Mayor, I will reach out to school districts and create a partnership for strong schools that will be a vehicle for communication, coordination and cooperation between the city and school districts.

I will lead regular partnership meetings to make sure our city initiatives make sense for the districts and our neighborhoods and to make sure there is a strong voice to hold our school districts and the city accountable.

Working as partners, we can leverage and focus existing city resources to strengthen our schools. For example:

• Public Works. Identify and expedite infrastructure projects such as streetlights and sidewalks around schools and make the pathways safe that students use to walk to school.

• Public Safety. Target anti-gang and other public safety resources on problem schools. Establish direct coordination between HPD and HISD police to work together on safety in and around schools. Gangs don't stop at the schoolyard gate, yet our police departments too often see that as a boundary. My proposals (below) to expand after-school programs, work/study programs and apprenticeship programs will also provide productive alternatives to gangs and drugs.

• Resource Sharing. Work together to share facilities – from multi-service centers to athletic facilities to idle school buildings that can be used for Express Libraries or after-school programs. Spark Parks – founded by the late Councilmember Eleanor Tinsley to develop public school grounds into neighborhood parks – is the model. The city is already building and remodeling our libraries – why not use them as community centers in areas that aren't served by a multi-service center?

• Joint Purchasing. Negotiate interlocal agreements between the city and school districts to jointly purchase fuel and energy – such as wind power currently used by the city – as well as supplies. Purchasing in higher quantities will reduce costs for both the city and our school districts.

• Student Health. Coordinate school clinics and the health department mobile clinics to boost immunizations. Houston has one of the worst rates in the country.

• School modernization and neighborhood renewal. Coordinate school reconstruction and improvement projects with city parks and infrastructure improvement projects and public safety initiatives to develop a coordinated neighborhood renewal program.
I think these are all good ideas, though my first reaction was to wonder why we're not already doing some of them. As it happens, Parker acknowledges at the end of her paper that much of it is indeed already happening; her idea is that by clearly articulating these goals, we can help them along. I wonder a bit about the possibility of duplicating effort, or causing a turf battle. For instance, the Harris County Department of Education already has a purchasing cooperative. Would Parker's plan complement that, or compete with it? I suppose that would be one of the tasks her Chief Education Officer would be responsible for. I should note that Parker recently received the endorsement of HCDE Trustee Jim Henley, so one presumes there's no inherent conflict in her vision and HCDE's mission. As always, more information would be helpful.
Other thoughts that I have from reading this plan: I wonder what overlap there would be between Parker's vision and the role of the various independent school districts, especially HISD. As always, there's the question of how some of these initiatives would be funded. I'm a little surprised Parker didn't reference her crimefighting plan when she talked about facilitating better coordination between HPD and HISD's police force, since she's made a tag line out of her statement that when you're a victim of crime you don't care which agency responds as long as it's someone with a badge and a gun. Finally, I'm curious how the public works stuff would relate to the CIP process, which everyone agrees is glacially slow. Like I said, I think these are good ideas, but they lead to many questions.
The rest is mostly statements of principles rather than policy prescriptions. I continue to find it interesting that education has been such a high profile issue in this election, but I do think the discussion about it has been good, and I think Parker's plan highlights some places where the city can have a positive effect, which is something I hadn't really considered before.
UPDATE: Clarified the penultimate paragraph regarding Parker's crimefighting plan.