Have an iPhone? Want to have facts and contact information about your Texas Legislature at your fingertips? Then take a look at MyTexasLege, now available for download. From their press release:
Created by a former Texas House staffer, My Texas Lege provides all the important information needed to contact your member of the Legislature including staff contacts.

"Contacting your elected officials and their staff should never be a difficult endeavor. We have created two versions, a paid version (Plus) and a free version (Lite), so that everyone with an iPhone can find their elected officials in seconds," stated Mynor Rodriguez, designer and developer of My Texas Lege.

Utilizing the new powerful iPhone OS 3.0, My Texas Lege Plus allows you to direct dial the members' offices, use Google ™ Maps to find district offices, and email the member and their staff from your phone. It will be regularly updated to reflect office staff changes.

Starting in Fall 2009, My Texas Lege Plus will include 2010 Texas Campaigns Expansion Pack providing information all the state races.

"Over the past year, we have seen the dramatic changes innovative use of technology can bring to government. My Texas Lege is one more tool that can make government work for you."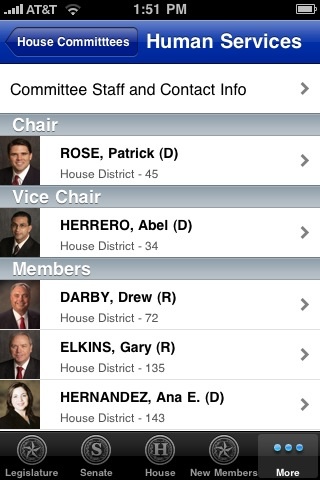 Mynor is a blogging colleague of mine – he used to have a blog called The Red State, which is no longer active, and he's still a member in good standing of the Texas Progressive Alliance. There are a couple of other ways you can get Lege info on your iPhone. One is via the Texas Legislature Online, the official state site, which has a page that's optimized for PDAs. The MyTexasLege app has some advantages over the TLO site – most of MTL's data is stored on your smartphone, so it's accessible even when you have no connectivity, and it has details about things like staff names and email addresses, more biographical info, and better search capabilities. There's also an app called Pocket Patriot, which can be found here, put out by a lobbyist firm called The Patriot Group. They're a Republican shop, with clients like Texans for Rick Perry, Texans for Lawsuit Reform, Texas Public Policy Foundation, and Bob Perry, so needless to say I would not recommend their application. They also don't have a free version, for what it's worth. Anyway, the Lege may be out of session again, but Austin and district offices are staffed year-round, and the campaign season will soon be upon us. If you like having that information handy on your iPhone, you should check out MyTexasLege and see what you think.
Related Posts: