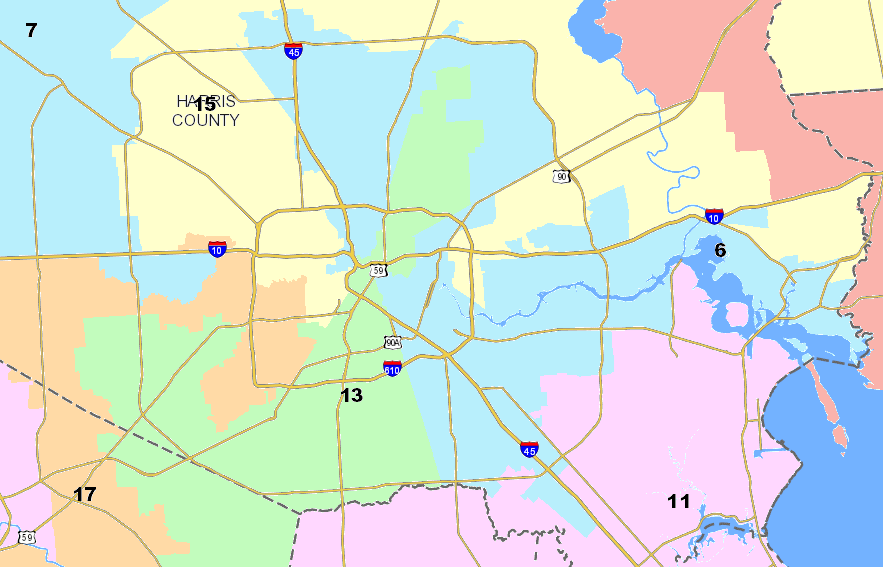 Today is the last day for early voting in the SD06 special election. Voting has not been terribly brisk so far. Through Monday there have been 7,178 total votes cast. You can see the daily figures here. Monday was a little slow because of MLK Day and no mail ballots arriving – we'll see if an extra big pile of absentee ballots arrive today. But even if that happens, it seems to me that there will around 8,000 early votes cast, maybe 8,500, so unless there's a big chunk of the vote to come on Election Day this Saturday, we will very likely fall on the low end of the turnout projections. There really isn't a comparable race to turn to for comparison, but just for grins here's how the early vote/Election Day breakdown went for the past six special elections and runoffs in Harris County.
Houston City Council, At Large #3, May 2007 – 44.7% of 37,592 votes were cast early
Houston City Council, At Large #3 runoff, June 2007 – 51.8% of 24,865 votes were cast early
SD17 runoff, Harris County only, December 2008 – 39.7% of 23,626 votes were cast early
Houston City Council, District H, May 2009 – 45.5% of 4,186 votes were cast early
Houston City Council, District H runoff, June 2009 – 47.7% of 4,707 votes were cast early
HISD Trustee, District 8, November 2010 – 50.5% of 24,631 votes were cast early
There was a runoff for that last race, but its results were not given on the Harris County Clerk page, so I can't say how much of that vote was cast early. The 2010 and 2007 general elections were coincident with other scheduled elections – there was a city proposition on the ballot in May of 2007, and no I didn't remember that, either – the others were not. With tongue firmly in cheek, I'd suggest that between 40 and 50 percent of the vote in this race will be cast early, so on the extremely optimistic assumption that there will be about 9,000 votes total cast early, we're looking at an over/under of about 20,000 – say between 18,000 and 22,500, to be obnoxious about it. If we're closer to 8,000 votes cast by tomorrow, lower those endpoints to 15,000 and 20,000.
It was my intent to include a look at 8 day campaign finance reports for this race, but as far as I can tell there are no such things posted on the Texas Ethics Commission page, just the January 15 reports. I don't know why this is the case – maybe they're someplace other than the usual location, for some reason – but I didn't see 30 day reports, either, so maybe that should have told me something. With the January 15 deadline falling between the two dates I guess that makes some sense. For what it's worth, Big Jolly suggested that Carol Alvarado was doing a lot better in fundraising than Sylvia Garcia was because a large portion of Garcia's total on the January 15 report was that $106K in kind contribution from the Texas Organizing Project PAC (TOPPAC). I get what he's saying, but it seems to me that a sizable investment in field work is quite valuable in a race like this, no matter how it's accounted for. Speaking of which, Big Jolly also has this to say:
What I don't understand is why RW Bray's report doesn't list In-Kind donations from Raging Elephants. I get at least one email a day supporting his candidacy from the Apostle's group, stating that it is a political ad paid for by Raging Elephants. The last few days, the Apostle has been begging people to get to HCRP headquarters for phone banking. Now, we already know that Raging Elephants doesn't bother with filing campaign finance reports but if a miracle were to happen and Bray somehow sneaks into a runoff, he's going to have some 'splaining to do. I mean, someone is paying for all that phone banking they have going on out of the Harris County Republican Party headquarters. Right?
Indeed. Perhaps someone ought to file a complaint about that. In any event, everyone involved in this race will have to make at least one more finance report, in July if they don't make the runoff, so perhaps we'll learn more about this at that time. If you are in SD06 and you haven't voted yet, please do so. Early voting locations are here, and polling locations for Election Day on Saturday the 26th can be found here. Please do your part to prove my projections too pessimistic.
Related Posts: