Eight days down, three days to go:

Year       Dem      GOP
=======================
2008    98,980   35,332
2012    22,752   46,769
2016    45,389   66,135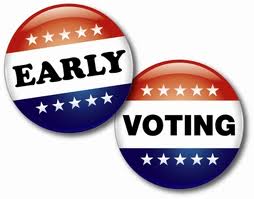 For your reference, the 2016 totals are here, and the 2012 totals are here. I do now finally have a copy of the daily resuits from 2008, which you can see here, with thanks to Marc Campos for sending them. You can still see the SOS archive for 2008, with the Week Two Day Two Dem totals here and the Week Two Day Two GOP totals here. EV totals for the 15 biggest counties statewide for the first seven days (i.e., through Monday) are here.
So I think we all agree that turnout hasn't quite been what we thought it would be. It's been more balanced, with more Dem participation (though obviously not at 2008 levels) and more modest GOP numbers than originally expected, though yesterday was pretty good for the GOP. Here's the Chron's what's-up-with-turnout-so-far story:
The heated presidential nominating contest has driven expectations of blockbuster GOP turnout across the Lone Star State, but early voting in Texas' 10 largest counties shows that Democrats and Republicans have ventured to the polls in roughly comparable numbers.

More than 176,000 Republicans in those counties had cast an early or absentee ballot as of Sunday, compared with nearly 161,000 Democrats – a much narrower difference than in either 2012, when Republicans cast more ballots in the first six days of early voting, or 2008, when Democratic turnout dwarfed GOP numbers.

Those figures reflect a 71 percent increase in Republican participation from the first six days of early voting in 2008, the last open-seat presidential election year. Democratic turnout was cut in half.

Political scientists attributed the relatively small turnout gap between parties to a closer-than-expected race between Democrats Hillary Clinton and Bernie Sanders, though they noted that Texas' urban areas tend to be bluer than the rest of the state.

"For a long time, there was this suspicion that the Republicans were more fired up. They've been out of office for eight years. They've got a lot of candidates on their side. And on the Democratic side it looked like a coronation," said Daron Shaw, a government professor at the University of Texas at Austin. "While it's nothing like 2008, the Democrats suddenly have a more interesting contest."

[…]

Nearly 45,000 Harris County Republicans cast a ballot through Sunday, an 88 percent increase over 2008. Democratic turnout in the county topped 32,000, less than half of what it was in 2008.

Last week, Stanart, a Republican, said he expected half of Harris County's votes to be cast early. He revised that down slightly on Monday, projecting a total Republican primary turnout of 265,000 and a Democratic turnout of 160,000, with 48 percent of the vote cast prior to Election Day.
Just as a reminder, here's what Stanart said before any in-person ballots were cast.
All told, Stanart said he expected close to 400,000 people will cast primary ballots in the state's largest county. Whereas Democrats dominated interest in 2008, Stanart predicted three-quarters of the turnout in Harris County will be on the Republican side, where native son Ted Cruz and New York billionaire Donald Trump are duking it out at the top of a shrinking list of GOP candidates.
That would mean Harris County Republicans made up 62.35% of total turnout. As of today, Republicans constitute 59.30% of turnout. We could still get there from here, but they're going to have to pick up the pace.
Related Posts: