One more day left to vote early. Vote tomorrow, or take your chances at a precinct location on Tuesday:

Year       Dem      GOP
=======================
2008   143,169   49,373
2012    30,538   63,817
2016    65,454   98,152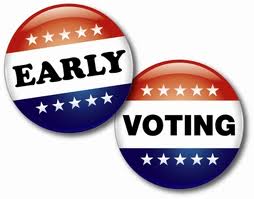 For your reference, the 2016 totals are here, and the 2012 totals are here, and the 2008 totals are here. You can still see the SOS archive for 2008, with the Week Two Day Four Dem totals here and the Week Two Day Two GOP totals here. EV totals for the 15 biggest counties statewide for the first seven days (i.e., through Wednesday) are here.
One more day to go for early voting, and history suggests it will be pretty heavy. I wouldn't be surprised if 50,000 people vote today, 20K in the Dem primary and 30K for the GOP. Regardless, right now the Dems are up 114% from 2012, which projects to 163,937 overall. Republicans are up 54%, which would lead to 252,205. Gotta say, credit where it's due, those numbers are awfully damn close to what Stan Stanart predicted earlier this week. His initial projection was lousy, but this one looks spot on. Of course, that's based on an assumption of what the share of early voters will be. We'll know soon enough.
Related Posts: