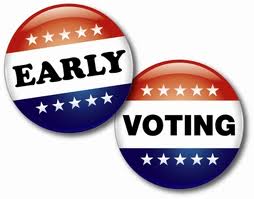 Here are the final numbers. Believe it or not, people did vote on Friday despite the fact that the entire metro area appeared to be at the Astros parade. Here are the daily totals from previous years:
And here's a select comparison:

Year    Early    Mail    Total   Mailed
=======================================
2017   46,224  12,205   58,429   19,875
2015  164,104  29,859  193,963   43,280
2011   49,669   8,676   58,345   15,264
2007   43,420   6,844   50,264   13,870

So 2017 early voting is almost identical in total to 2011 and ahead of 2007, but the source of the votes are different. 2017 trails 2011 with in person voting but makes up for that in absentee ballots, and holds a sizable lead in absentee ballots over 2007. That's a clear change in voter behavior, and something to continue to watch as we go forward.
One other difference to point out, which requires another set of numbers. Here are the last day in person totals for the odd year elections going back to 2007:
2017 = 9,092
2015 = 35,493
2013 = 18,893
2011 = 10,559
2009 = 17,072
2007 = 10,473
Even with more people voting early, this year's last day totals are the weakest we've ever seen. I'd attribute some of that to the Astros parade, and some of it to the overall lack of campaign activity compared to previous years. One possible effect of this is that more people will wind up voting on Tuesday than we would have expected. Turnout wasn't just lower than one might have thought on Friday, after all. The whole week was lighter than it might have been, and to the extent that was a real thing and not just the way this year would have played out anyway I'll cite the World Series as a reason. Unless the term limits referendum gets thrown out and we get put back on two year terms, we'll next have a chance to see what a non-Mayoral election year is like in 2021. And who knows, maybe the Astros will be in the World Series again then.
So we turn our attention to final turnout. For once, I'm not going to overthink this. As we've already established, city turnout in odd years is roughly 70% of the county; it ranges from about 67% in years where there isn't something that specifically drives non-city voters to the polls to 73%, and we're splitting the difference. In odd years past, early voting has been between 40 and 50 percent of final turnout. I continue to believe that early voting will be a higher share of this year's tally, partly because of trends we've seen in other years and partly out of the belief that hardcore voters are more likely to vote early, but I'm not going to put all my eggs in that basket. If we assume the range of outcomes is that early voting will be between 40 and 60 percent of the final total, then when the dust clears we should expect between 54,000 and 81,000 voters. Which, again, corresponds pretty well to my original gut-feel estimates of 50 to 75 thousand. I love it when reality seems to line up with my intuition. All that said, I could be off in any number of directions, and that guesstimated range is wide enough to cover a lot of potential error. Feel free to make your own guesses in the comments.
Related Posts: