Hope everyone had a good Halloween. How many of y'all spent it voting?

Year    Early    Mail   Total   Mailed
======================================
2019  103,945  14,280  118,225   26,820
2015  128,611  27,952  156,563   43,280
2013   68,803  20,491   89,294   30,572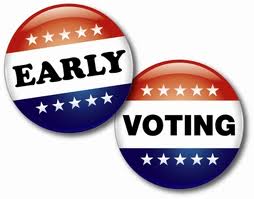 The 2019 Day Eleven file is here, the final 2015 file is here, and the final 2013 file is here. The daily voter rosters are here.
The in person totals this week have been roughly 10K, 10K, 12K, and 15K. Today will be the high point as always, but the upward slope has already begun. In the Extremely Anecdotal Data Department, I had four people ask me yesterday for some guidance on this year's ballot. I get these questions every odd numbered year, but usually earlier in the process. If you want to take that as a sign that people are waiting longer than usual to vote this year, I won't stop you. Have you voted yet? Are you still figuring it out in some races? Leave a comment and let us know.
Related Posts: