It started with the Texas State Teachers Association.
The Texas State Teachers Association today urged Gov. Rick Perry to call the Legislature into special session now to appropriate $2.5 billion from the Rainy Day Fund and head off another round of harmful cuts in local public school budgets for the 2012-2013 school year.

"It is time to stop the bleeding and stop the cuts, now!" said TSTA President Rita Haecker, who appeared at a state Capitol news conference with State Rep. Donna Howard of Austin.

[…]

TSTA believes there is enough money in the Rainy Day Fund to restore the school cuts and leave a substantial balance to address other important needs. The comptroller has estimated the fund will have a balance of $7.3 billion by the end of this budget period. Other experts believe it may grow even larger, because of higher oil prices and increased production.

Gov. Perry insisted that the Legislature leave a large balance in the Rainy Day account, even while making deep cuts in state services, during last year's sessions. TSTA will be circulating petitions, urging the governor to do the right thing now and call lawmakers to Austin. Texans also can sign the petition at:

http://www.tstaweb.net/forms/2012cutsPetition.html

"It is time for the governor to cut the politics and stop cutting away at our children, their education and our state's future," Haecker said. "He can call a special session, stop the cuts and do what's right for Texas."
Remember, the Lege underfunded Medicaid by nearly $5 billion, so most of the Rainy Day Fund is spoken for. Haecker and the TSTA are calling for the extra Rainy Day funds, which have accumulated over the past few months as the economy has improved, to be used.
Former Democratic House Caucus chair Jim Dunnam echoed the call in the op-ed pages.
Just back from his failed presidential bid, Gov. Perry has been urged by Senate Finance Chair Steve Ogden, R-Bryan, and by educator groups to call a summer special session of the Texas Legislature to address budget and school finance issues. It's so bad that even Perry's own appointee as head of the Texas Education Agency, Robert Scott, just said he can't certify Texas' ban on social promotion until the current lack of funding is addressed. Perry should heed these responsible calls to fix the problem.

In 2011, $5.4 billion was cut from public education; that's more than $1,000 per child. Those cuts will be felt even more in the fall than in the current school year. In addition, distribution of public school dollars has gotten way out of kilter, with students really the ones suffering.

Last week, Perry ignored the calls for a special session and instead chose to minimize the role of money in education, saying, "ultimately success is about the results that we get out of our schools." Results do measure success, but the fact is that schools receiving the most money are the ones showing the successful results.

[…]

Gov. Perry needs to listen to Ogden and others and convene a special session this year. Why await the inevitable Supreme Court ruling when the problem is staring us in the face? School funding is once again totally inadequate, and funding imbalances are determining the winners and losers in our accountability system. Ironically, Texas now has $6.1 billion just sitting in our rainy day fund – more than what was cut from schools last year.

We have to stop blaming everyone else for our problems and look in the mirror when we look at unemployment, the deficit and our economy. Our methodical and steady defunding of education at all levels is a root cause of many of these problems. The Legislature needs to go back to work now. Otherwise, our tomorrow might not come out like we want, and only we will be to blame.
Democratic Senate candidate Paul Sadler, who was an education finance policy expert while in the State House, put the focus on his presumed opponent in November, Lt. Gov. David Dewhurst.
Lt. Gov. David Dewhurst should "get to work or resign," says Paul Sadler, former House Public Education chairman, who believes state lawmakers need to come back to the state Capitol to work on school funding in a special legislative session.

Dewhurst is running for the Republican nomination for the U.S. Senate; Sadler is running for the Democratic nomination.

Only Gov. Rick Perry can call a special legislative session, but Dewhurst should be supporting the call, Sadler says.

"Massive cuts to education this year, followed by systematic cuts planned for next year, will create a "Double Robin Hood" scenario for many public schools," Sadler said. "I call this 'The Dewhurst Disaster.

Paul Sadler has a simple message for David Dewhurst: "Get to work, or resign."

"During the last legislative session, it is now obvious that both Governor Rick Perry and Lt. Gov. Dewhurst were interested only in their selfish desire to run for higher office and were too afraid of the right-wing extremists to tackle the hard issues of our state created by their mismanagement," Sadler said. "I can certainly understand why both of these men would try to leave the State before Texans learn of the disaster they have created."
I've put Sadler's full statement beneath the fold. I confess that calls for special sessions always make me queasy. Only the Governor can set the agenda for a special session. Once the door is open, you never know what he might let in. Even if I knew the scope would be limited to this issue, I can't say I'm comfortable with this Legislature being called back into action by this Governor to fix the problems they caused. Why should we expect a different outcome this time around? But these are academic concerns, because everyone knows Rick Perry has no interest in fixing anything. What's important is keeping the spotlight on this failure, and how the recent welcome news about sales tax receipts and the Rainy Day Fund balance obviate the already limp excuses that Perry and Dewhurst and the rest of them had for gutting public education in the first place. This election, the next election, however many elections it takes, need to be about the failure of the state's Republican leadership and Legislature to provide for Texas' future. So sign the petition and join the call, and mark this date on your calendar: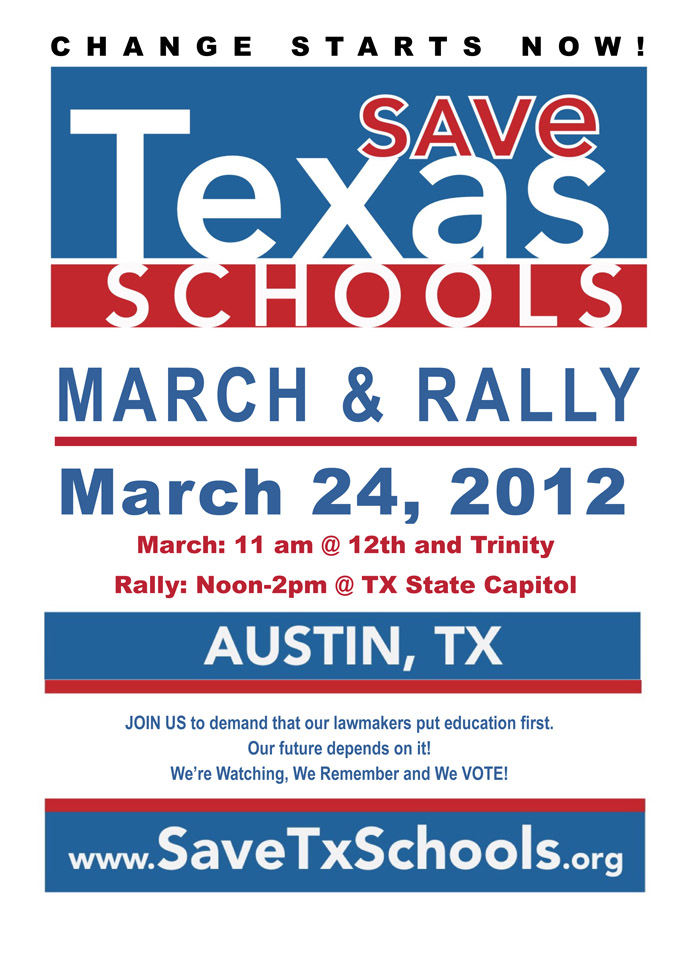 And if that's not enough, as BOR suggests, you can join with the Texas Taxpayer & Student Fairness Coalition, who are one of the school finance plaintiffs.