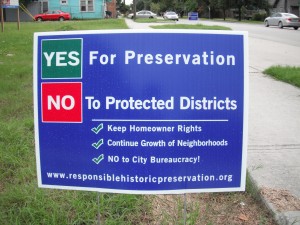 I got an email last week from Kathleen Powell of Responsible Historic Preservation for Houston announcing that the first lawsuit against Houston's new historic preservation. You can see a copy of the complaint here. What I have not seen is a mention of this on any news-related website. Nothing on the Chron, or Swamplot, or CultureMap, heck not even a mention on the RHP for Houston site itself, just this HAIF forum thread, which has predictably descended into invective.
The suit itself makes the following claims:
– The city violated the original preservation ordinance of 1995 by not having a hearing prior to the amendment of that ordinance. They also claimed that there was not a hearing by the Houston Archaeological and Historical Commission (HAHC) prior to the adoption of the new ordinance, in violation of the original ordinance.
– They claim the new ordinance violates section 13 of the city charter, which forbids zoning.
– They claim the reconsideration process was not legal.
– They claim the city ignored the level of support for reconsideration in the Woodland Heights and Glenbrook Valley and illegally approved their designations as historic.
– They claim the city illegally reduced the value of a property owned by the plaintiffs by not allowing them to demolish the original structure on it.
– They claim federal civil rights violations and Texas electoral code violations.
I'm not a lawyer, so I'll leave it to those better versed in these matters to evaluate these claims. The suit was assigned to the 215th Civil District Court, for which the judge is Steven Kirkland, and the email that was sent made a big deal out of Judge Kirkland's friendship with Mayor Parker and his recusal from the lawsuit over the firefighters' pension fund. I expect the first order of business here will be a motion for him to recuse himself in this suit as well.
That's all I know at this time. You can find the filing on the District Clerk webpage here, or go to http://www.hcdistrictclerk.com/edocs/Public/Search.aspx and search for Cause #2012-36113. Depending on who you believe in that HAIF thread, this will either be kicked on a summary judgment motion, or the city will go down like the Titanic. We'll see who's right.
Related Posts: