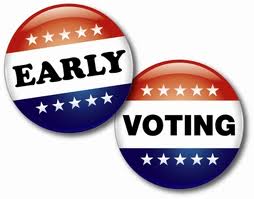 Three days into early voting and the numbers continue to be strong, with a third consecutive day of in-person totals topping 5,000. Here are all the daily totals:
Some people, like Campos, have been trying to get a handle on what this might mean for African-American turnout in particular, since Ben Hall – and Ronald Green and Andrew Burks – are counting on good A-A turnout to varying degrees for their electoral success. As a starting point for that discussion, let's take a look at the early vote share at locations in predominantly African-Americans locations:

Year  HD131  HD139  HD141  HD142  HD146  HD147  Total
=====================================================
2013   1.9%   3.4%   4.8%   3.7%   9.2%   4.0%  27.0%
2011   0.8%   3.0%   4.8%   2.8%  10.7%   4.6%  26.7%
2009   2.6%   3.1%   5.1%   3.2%   8.1%   4.0%  26.1%
2007   2.4%   3.8%   5.2%   2.9%   9.6%   4.6%  28.5%

The numbers above represent the share of the vote cast at the early vote location or locations in the specified State Rep districts. For the three previous cycles I calculated this based on final EV totals, and for this year I used the totals so far. This year doesn't look a whole lot different from the last three cycles if you ask me. Obviously, this is a rough measure so don't put too much stock in it, but it's clear there's no big surge relative to the rest of the county. Which brings up a second point, that we may be seeing an increase in non-Houston voters, which would mean that these totals are in fact higher where it matters. To that end, let's look at the locations that are primarily or entirely outside city limits:

Year   HD126  HD128  HD130  HD132  HD135  HD144  HD150  Total
=============================================================
2013    4.0%   2.7%   4.6%   2.4%   2.2%   1.3%   1.0%  18.2%
2011    2.9%   2.2%   4.6%   1.4%   2.2%   2.0%   1.0%  16.3%
2009    4.2%   2.2%   3.2%   1.4%   1.7%   1.3%   0.9%  14.9%
2007    5.0%   5.9%   1.3%   1.5%   5.5%   1.0%   1.0%  21.1%

Up a bit from the previous two cycles but down from 2007. City turnout was roughly the same in 2007 and 2011, but city turnout as a share of total county turnout differed:
2011 – 73.6% of Harris County vote came from city of Houston voters.
2009 – 69.5% of Harris County vote came from city of Houston voters.
2007 – 63.6% of Harris County vote came from city of Houston voters.
I suspect 2009 broke the pattern because of stronger Election Day turnout. In any event, as with African-American turnout I don't see anything terribly out of whack with past elections. Again, this is a rough measure, and we won't know for sure what things look like till we see that first set of results on Election Day evening. There may be surprises lurking – there almost always are – but nothing that stands out to me based on the numbers we've seen so far.
Related Posts: