And we're done:

Date    Early    Mail   Total   Mailed
======================================
11/15  61,008  21,141  82,149   42,938
12/15  86,233  27,153 113,386   39,649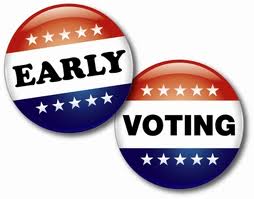 The runoff numbers are here, and the final EV totals for November are here. I had guessed that the final EV total would be between 100,000 and 110,000, so I was off by a little bit. Remember again that about 100,000 in person early votes were cast in the last five days of November early voting, so don't be alarmed by the disparity here. The total Houston early vote for November from Harris County was 134,105, so the runoff total was 84.55% of that. One way to guess final turnout would be to project it as 84.55% of November turnout, which would put us at 227,332. For what it's worth, the December 2009 runoff total was 86.69% of the November 2009 election total, so that's not a terrible guess. Guessing that December early voting was 49.9% of the final total as it was for November gets you an almost-identical total of 227,363. Of course, all of this may be a load of hooey, and with rain in the forecast for Saturday it's entirely possible we've seen a bigger share of the final vote than other indicators might suggest. Who knows? We're all just guessing here, and that's as true of the guys with letters after their names as it is of amateur blowhards like myself. All the campaigns will now shift their efforts to Saturday, and if there are any late-arriving below-the-belt anonymous attack mailers, they're already on their way. What's your view of how thing stand?
Related Posts: