From the inbox, possibly the most unintentionally hilarious press release I've ever had the privilege to receive, from the Harris County Republican Party:
"I am mad. Mad at the avoidable losses wreaked across Texas by the Beto Wave of straight-ticket votes. That straight-ticket wave turned Fort Bend County Democrat, defeated Republicans on appellate courts across Texas, elected Democrats across the state to Congress and the Legislature, and swept every countywide vote in Harris County. Despite the largest and most ambitious campaign the Harris County Republican Party has ever run, we fell woefully short.

"Sadly, this straight-ticket Beto Wave was once avoidable. Texas is one of only eight states that still have straight-ticket voting. In 2017, other grassroots conservatives and I championed legislation to end straight ticket voting in Texas once and for all. But, to the detriment of Republicans across Texas, straight-ticket voting was left in place for one last election–in 2018. This year, faced with the longest ballot in the country, 75% of the 1.2 million Harris County voters (presidential-year-level turnout) punched the straight-ticket option: 500K Democrat vs. 400K Republican, giving Democrats a 100,000-vote margin, with Beto O'Rourke winning Harris County by 200,000 votes.

"The result was a down-ballot sweep that would not have happened without straight-ticket voting.

"There was no substantive Democrat countywide candidate, yet they all won. Consider: did all of those 500,000 straight-ticket Democrat voters turn out planning to oust County Judge Ed Emmett? Did the straight-ticket Democrat voters who gave Commissioner Jack Cagle's opponent 46% of the vote know they were voting for a Communist? The questions answer themselves."
May I suggest, before we go any further, that you now click this link? I'll wait.
Yeah. That's from their Facebook page, and it was on the the Harris County GOP website as of Friday. Here's a screenshot I took at the time: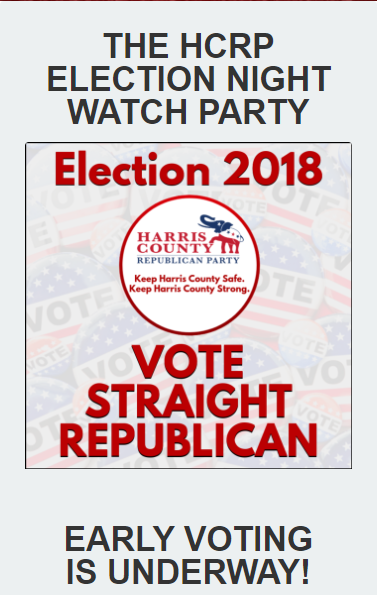 So, yeah. You know, I'm old enough to remember the year 2010, when two thirds of all voters cast a straight-ticket ballot, giving the Republicans a 50,000-vote advantage before anything else was counted. Funny how that only became a problem to fear when there started to be more Democrats in the county.
In the run-up to Election Day, an influential Tea Party group seemed skeptical that a blue wave would wash over the state.

But after the votes were tallied Tuesday, the NE Tarrant Tea Party found that some of its favored candidates had nearly been swept away.

"Slaughtered … slaughtered … lost … lost … barely held on, but at least they won," the group's president, Julie McCarty, wrote to supporters Wednesday, ticking down a list of races. "We are rapidly becoming outnumbered. I don't know what tomorrow holds, but I don't like the pattern."

Though the GOP maintained its dominance of the Legislature and control of every statewide office, it was by almost all counts a tough night for her wing of the party. With the Democrats' star senatorial candidate, Beto O'Rourke, at the top of the ticket, challengers running to the left of far-right — and often well-financed — candidates made nail-biters of races that had once been safe Republican wins.

[…]

Political analysts say the results spell trouble for the no-holds-barred conservatism that has animated Republican primaries, especially with the success of Democratic challengers who this year campaigned on bread-and-butter issues like education and health care.

"The margins for the more combative and conservative Republicans were much smaller than that of the more pragmatic and more consensus-based Republicans," said Mark Jones, a Rice University political science professor. "That says something to Republicans that is: When you have a candidate that doesn't alienate people, your cushion is much larger."

McCarty, the NE Tarrant Tea Party president, did not respond to a request for comment, nor did Michael Quinn Sullivan, head of the deep-pocketed and hard-right Empower Texans group.

But in an email newsletter Wednesday, Sullivan said it "was a rough night for Texas Republicans."

"Elections come and go; some candidates lose and some candidates win. Sometimes those losses and wins have nothing to do with the candidates themselves," the newsletter said. "Legislatively, though, not much changes. The GOP holds commanding leads in Texas' House and Senate."

The lower chamber's most conservative faction, the Freedom Caucus, may in fact gain membership next session, with the entrée of several new ideologically aligned candidates.

McCarty, in an email to supporters, attributed the election outcome to an influx of Democrats and "white guilt" invading the suburbs.

"It's not that we didn't work hard. It's not that folks didn't vote. Dems are moving in from out of state, lured in by short-sighted politicians. Dems are moving in across the border. Dems run our schools and universities and churn out more Dems," she wrote.
Clearly, we need to build a wall around the entire state. Maybe we can make California pay for it. As for the thesis that the wingnuts will perform some strategic moderation, let's just say that the evidence for that is thin so far.
I mean, look, we may well lose some amount of the ground we gained this year in the 2020 election. Lord knows, I was feeling pretty damn giddy around this time in 2008 as well, and we know what happened next. But damn, I'm gonna enjoy this for now. Campos has more.
Related Posts: