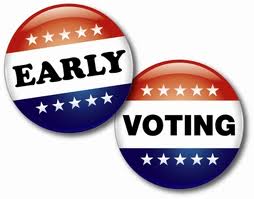 Early voting is officially over, though a few more mail ballots will trickle in by tomorrow. Here are the final numbers, with the chart from Thursday being updated:
Here again is that look at turnout over the first ten days and last two days of early voting, now with this year's numbers added in:

Year   10 Day   Last 2   Final Last2 %
======================================
2013   80,959   28,381 109,370   25.9%
2011   40,389   18,156  58,545   31.0%
2009   51,997   28,519  80,516   35.4%
2007   33,247   17,017  50,264   33.9%

Turnout slowed down a bit this year, in absolute terms where Thursday had the smallest in-person total for the week – I'm sure the rain and the Trick-or-Treating had some effect on that – and in comparison to other years. Final turnout fell short of my projection based on the past three elections by over 5,000 votes. I take all of this as at least some more evidence that what we are seeing is primarily a shift in behavior towards early voting, thus making the odd-numbered years more like the even-numbered years around here. Based on what we've seen so far, here are the range of projections for final turnout:

EV total   EV Pct  E-day total   Turnout  Htown hi   Htown lo
=============================================================
 109,370      35%      203,116   312,486   218,740    187,492
 109,370      40%      164,055   273,425   191,398    164,055
 109,370      45%      133,674   243,044   170,131    145,827
 109,370      50%      109,370   218,740   153,118    131,244
 109,370      55%       89,485   198,855   139,199    118,919
 109,370      60%       72,913   182,283   127,598    109,370
 109,370      65%       58,891   168,261   117,783    100,957

To break this down, we start with the EV total so far. That number will wind up being a bit higher because of late-arriving mail ballots, but that's not important for these purposes. "EV Pct" is what the share of the EV total is of final turnout. Historically, it's been less than 40% in these elections, but the hypothesis is that this year it will be at least 50%, thus putting it in line with the even-year elections. "Turnout" is then the number we'd get under each of these scenarios. Of course, we are talking about Harris County turnout, not City of Houston turnout. Going by past elections, the city of Houston accounts for between 60% and 70% of Harris County turnout in odd years. "Htown hi" is the Houston vote total if Houston is 70% of Harris County turnout, and "Htown lo" is the share if we're at 60%. Got all that? According to the final Johnston analysis of the 2013 vote, about 67% of the total EV so far has been city of Houston. The comparable number for 2009 was 72%.
Of course, this is still all just Harris County. Fort Bend County will contribute about 2000 votes to the final Houston total, and Montgomery County will kick in 50 or so more. I don't know what their early vote totals look like, and their past election history doesn't provide much information, so let's not worry about it. My guess is that Houston's final turnout will resemble the 50% early scenario, with between 130,000 and 150,000 votes total in the city. Leave your own estimates in the comments and we'll see who's the best guesser. Greg has more.
Finally, a couple of comments about the Chron story on early voting.
A sunny and pleasant Friday in the Houston area, combined with a tendency toward procrastination, helped spur a final-day total twice that of any day other than the first when early voting began on Oct. 21. The tally of all early voting, including in-person appearance and ballots mailed, was more than 118,000, about 15,000 more than the previous high for similar elections in 2003.

"This is the most we have ever done," said Harris County Clerk Stan Stanart. "I think to some degree our high turnout is a result of getting the word out on voter ID."

A new state law requiring would-be voters to show a photo ID at the polling place is in effect for the first time after surviving a court challenge.
Actually, the voter ID law has not survived a court challenge. The one court ruling we had on it, from the DC federal court, denied preclearance to it on the grounds that it was discriminatory. The SCOTUS ruling on the Voting Rights Act negated that ruling by throwing out the preclearance requirement of the VRA. That mooted the denial of preclearance since preclearance was no longer a requirement, but it didn't reverse the ruling. In the meantime, litigation over the voter ID law is ongoing in federal court in Corpus Christi. The state won the ability to implement this law without prior review. It has not won anything on the merits of the law itself.
Second, that 118,000 figure is the sum of the in person votes and the total number of absentee ballots mailed. Over 30,000 absentee ballots have been sent out, but only about 21,000 have been returned, and that is the difference between the Chron's 118,000 figure (look here for the Potential Total on the bottom). Only the absentee ballots that have been returned count, and most of those 9,000 that hadn't been returned by Friday won't be. It's misleading to say otherwise. These are two basic inaccuracies that really should have been caught and corrected before ever making it into print. Bad job, Chronicle editors.
"Everything seems to be on track, and the total is far outpacing recent similar elections," said [Secretary of State] spokeswoman Alicia Pierce. "Early voting seems to be going smoothly, even including the requirement of voter IDs."

Officials in Harris County and elsewhere echoed that assessment. The photo identification requirement, which was approved by legislators in 2011, has not prevented anyone from voting, they said. People who show up at a polling place without a valid photo ID can vote provisionally. However, if they do not provide one in person at their local election office within six days of the election, their vote will not be counted.

[…]

Stanart said the ID requirement caused no real problems. He said seven people voted provisionally because of an ID issue.

"Two of the seven showed up without a photo ID, two had out-of-state IDs, and the other four had IDs that were long expired," Stanart said Friday.

"In the big picture," he noted, "that's not much when you consider more than 80,000 people voted."
I agree that it isn't much, though it is vastly more than the number of documented cases of voter impersonation that even Greg Abbott can claim. But this is still a fairly small sample, and a highly non-representative one, as the vast majority of early voters are the hardest of the hardcore. These are exactly the people that you would expect to not have any problems. If the law had mandated that everyone needed to show up in clown shoes and with a copy of "The Bridges of Madison County", we'd probably be reading a story about how all that went more smoothly than expected, too. The problem with voter ID has always been about the people who don't have one of the very limited allowed forms of ID, the state's laughably pitiful effort to provide ID to those who don't have it, the fact that the Legislature clearly favored some groups (concealed-carry license holders) over others (students), and that the type of voters that will be most affected by this law are people of color, who tend to vote Democratic. None of this has changed by the relatively unproblematic early voting period of this low-turnout election of high-propensity voters. I'm glad things have gone well so far, but if this law is still in effect a year from now, I seriously doubt we'll be able to say the same thing then.
Related Posts: