Sorry I skipped yesterday's EV totals. I'm going to try to do this every day but that's easier said than done. Let's pick it up from here.

Year    Early    Mail   Total   Mailed
======================================
2019   26,206   6,050  32,256   22,142
2015   27,596  18,196  45,752   41,994
2013   15,595  12,033  27,628   29,538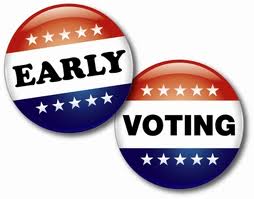 The 2019 Day Three file is here, the final 2015 file is here, and the final 2013 file is here.
So as with Day One, the difference between this year and the two previous election years is the volume of mail ballots. The in person vote total is quite comparable to 2015, and well ahead of 2013, but thanks to three times as many mail ballots from 2015, and twice as many from 2013, the overall total is just slightly ahead of 2013 and well behind 2015. We're getting close to a point where the number of mail ballots returned in 2015 will be greater than the number of mail ballots sent out from this year. I really don't know what to make of that.
As it happens, the County Clerk's office is now publishing the daily voter roster, broken down by vote type, so an enterprising soul could take a deeper look and try to arrive at some conclusions. It would help to get the daily roster from the earlier years as well, for comparison purposes. You'd have to make that request from the Clerk, but obviously you can do it. I'm hoping someone else will do this for me, but if I get desperate enough I may take a crack at it. Anyway, this is what we have now. Let me know what you think.
Related Posts: