I've been meaning to post about this Texas Observer story about the current status of school finance, the litigation challenging it, and the story of how we got here. Here's a little local angle to illustrate one of the many ways in which the system is messed up.
Even one of the state's most efficient districts, Northwest Houston's Cypress-Fairbanks Independent School District (ISD), is bleeding out slowly after eight years of cuts.

Cy-Fair, the state's third-largest district, has become a model for doing more with less. It's consistently a top performer not only in the state comptroller's rankings of budget efficiency, but also in state test scores. The district hasn't suffered the massive teacher layoffs some others have, and spokeswoman Kelli Durham says that's because the district has grown so adept at finding other places to cut. Still, Cy-Fair has scaled back its custodial contracts, cut money for field trips, and skimped on new furniture, trimming $125 million (20 percent of the district's current budget) in less than a decade. They've gotten more waivers than ever before to exceed the state's 22-student cap in kindergarten-through-4th grade classrooms.

To keep running smoothly through the tight times, Durham says, district leaders cashed in on trust and goodwill they've built with their community over time, asking teachers and the whole Cy-Fair community to do more for their schools. But that solution, Durham says, is not sustainable. "In reality, people can't do double-time for a long period of time."

Most districts receive more than Cy-Fair's annual $4,800 per student, but some get even less. The state's current funding scheme harms them all in different ways. In wealthy districts, parents pay thousands in taxes every month, then watch the state give it to some other school. Their kids sell candy bars and magazines so their school can make ends meet. In poorer districts, students may have to pay to ride the bus to a school that's more crowded than ever—the sort of environment that makes it easier than ever for students to drop out without being missed.

[…]

In 2005, the Texas Supreme Court ruled the school finance system unconstitutional. With so many districts maxing out their property tax rates, the court ruled that the system amounted to a statewide property tax—outlawed by the state constitution. State lawmakers were ordered to reduce property tax rates, which they did in 2006, but not before muddling the whole system even more.

Rather than update the old formulas used to determine how much money a district should get, the Legislature in 2006 invented a new benchmark— "target revenue"— based on each district's property tax revenues in 2005. The strategy was meant to protect districts from losing money as the state lowered property taxes. But it created its own grave inequities in funding between districts. Target revenue not only doesn't provide districts enough money, it makes inequalities worse over time.

In an absurd twist, the target revenue system actually punished the school districts that were most efficient with their money. This is why Cy-Fair ISD finds itself at such a severe disadvantage under the current system. It's a large district that got by for years by pinching pennies. But now the district's funding is tied to its 2005 levels of property tax revenue and per-student spending.

"If we had not been so efficient, we would've come up with a better target revenue [figure]," says Durham, the Cy-Fair spokesperson.
HISD is largely in the same position. Its property tax rate is below the mandated cap, and it could have made up for at least some of the funding cuts by raising its rate, but as primarily argued by Trustee Harvin Moore, it shouldn't be in the position of having to subsidize the state's failure. Once again, we wait for the courts to step in and force the Lege to Do Something. Let's hope this time the effect is positive.
In the meantime, of course, you can get involved locally and at the Capitol. I've already mentioned this, but it's worth showing again (and again):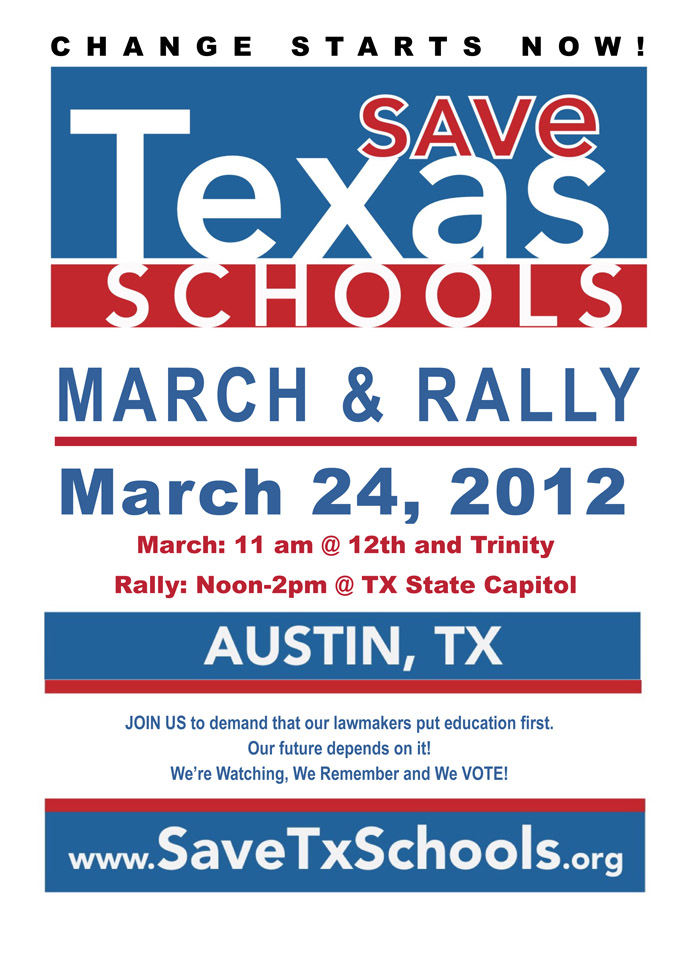 Here in Houston, in addition to the community grassroots meeting this evening, you can hear Wayne Pierce, the Executive Director of the Equity Center, and David Thompson, the lead litigator on the lawsuit for which HISD is a plaintiff, give a talk on where things stand and what you can do about it. The talk is Monday, March 5, from 10 to 12 at the United Way of Greater Houston, 50 Waugh Drive (map). Here's a flyer with the details. You can also team up with the Equity Center as they press forward.
If you can't attend that, you can attend a family fundraiser for the Texas Parent PAC on Sunday the 4th, from 2 to 4 at the Nature Discovery Center, 7112 Newcastle at Evergreen in Bellaire. More details for that are here. If you want to sign on as a sponsor, see here for more. Get informed, get involved, and get out and vote. And don't forget who's on your side and who isn't.
Related Posts: