Mayor Parker may be in a jam because of the upcoming Metro referendum, but if so it's not because what Metro is likely to propose is bad for Houston.
"I'm between a rock and a hard place on this," Parker said. "The general mobility money fuels our street capital projects plan. It's a significant portion of that, but I also know if we don't allow transit money to go to transit, we're never going to be able to grow our system. I think there's some compromises out there that can be made to allow more money to flow into Metro without unduly burdening the cities."

Currently, Metro collects a 1-cent sales tax in a service area that covers much of unincorporated Harris County and the 15 cities. It distributes 25 percent of that money to the cities and county to build roads, bridges and bike paths. Metro must go to voters by next May to alter or continue the arrangement and the agency's board of directors is scheduled to approve November ballot language next month. Garcia has proposed a plan to cap annual general mobility payments at their 2014 levels, with any sales tax revenues above that going to the transit agency to fund its rail and bus systems.

"I like that, because that means that the cities are made whole. The cities can't say that anything is taken away from us. All the money that we're currently receiving we would continue to receive, but the new increment would go to Metro," Parker said. "That's the least burdensome on cities."

Mayors of the other 14 Metro member cities and county commissioners disagree. Not only do they oppose a cap, but they say they will ask the state legislature to help them secede from Metro if a ballot measure passes that takes away from their share of future sales tax collections. Harris County Commissioners Court even held up funding to a handful of economic development organizations until their leaders pledged to support the existing flow of road money from Metro to the county and cities.
Just as a reminder, this is what the small cities would be giving up if they were to follow through on that threat.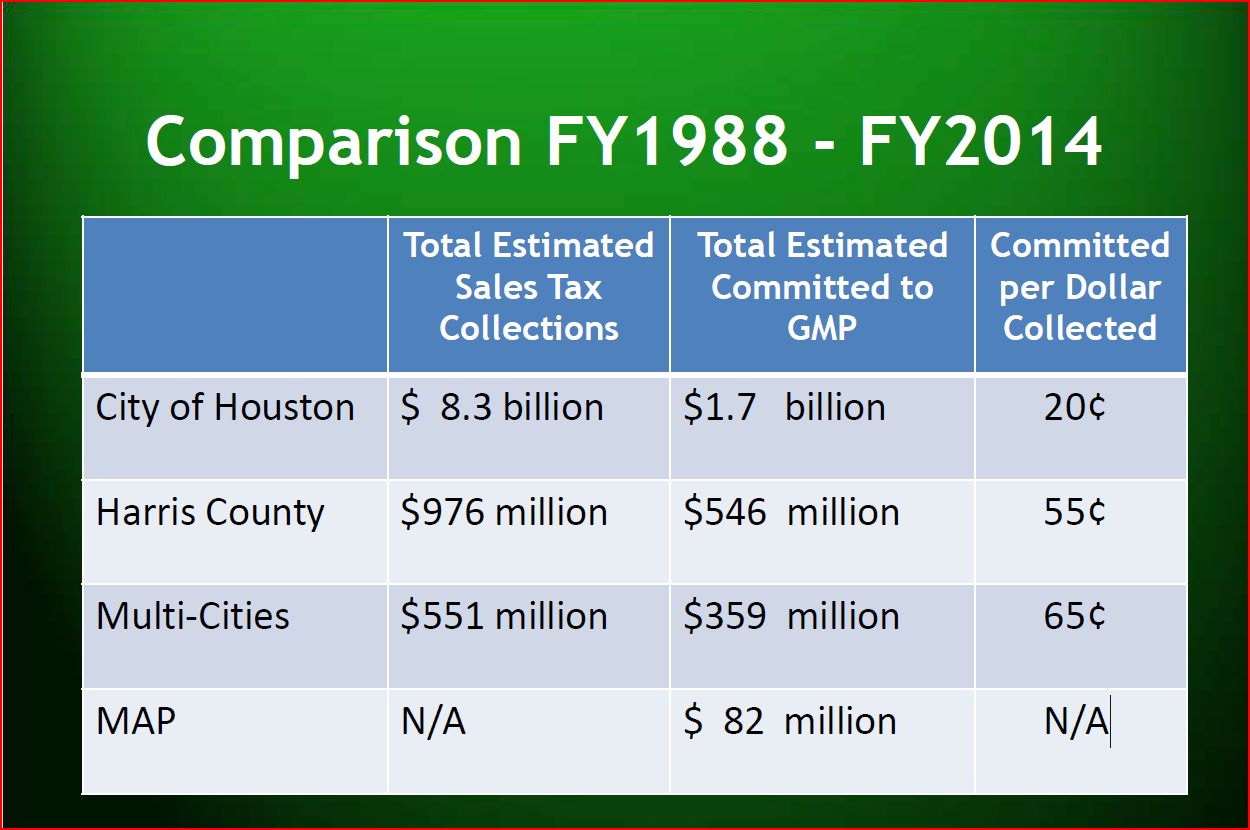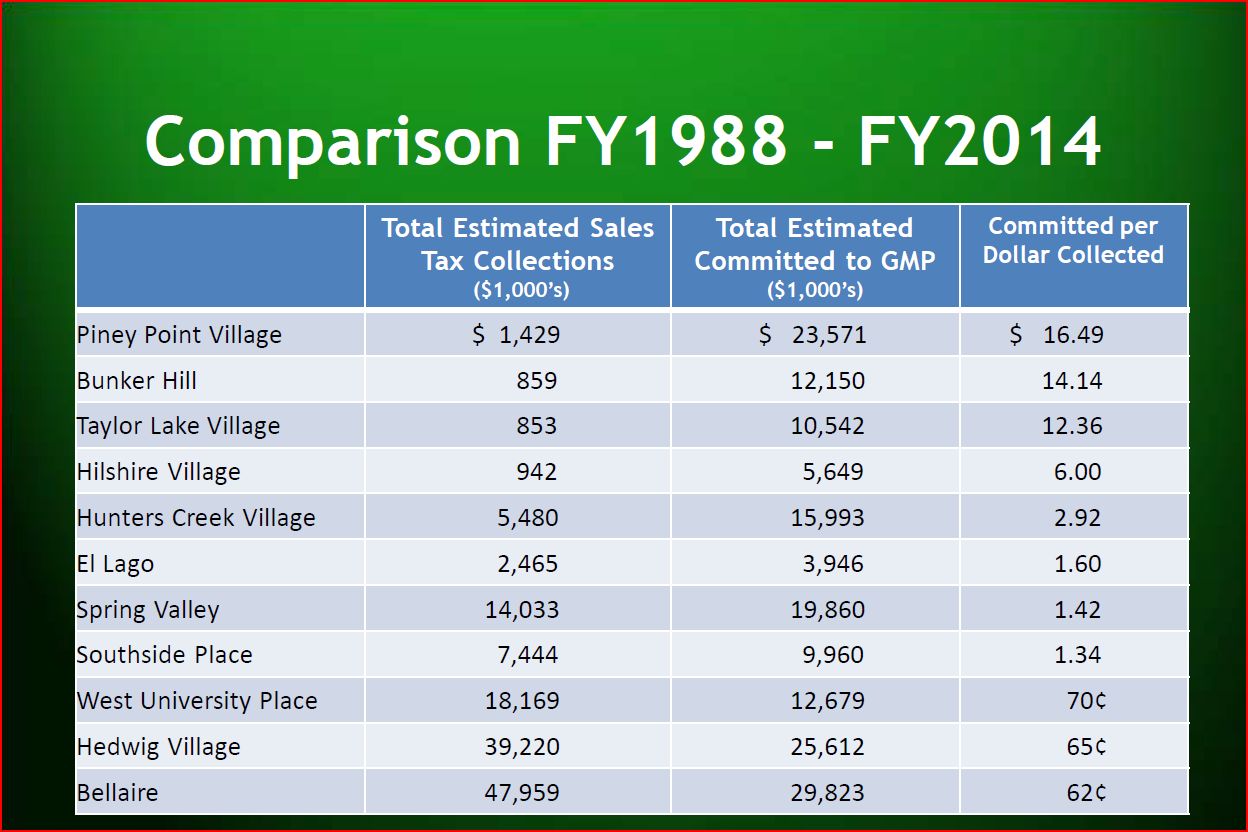 Everyone's gotta do what they gotta do, but that's a pretty sweet deal those cities would be giving up. I have a hard time seeing how freezing the GMP at 2014 levels could possibly apocalyptic for any of the participating entities if they really have been using these monies for roads and bridges and whatnot and not just as some extra cash for their budgets. Longer term, I can understand the angst, since Metro Board Chair Gilbert Garcia is talking about phasing out the payments by 2030, but that's a long time from now. There'd be plenty of time to adjust to that. If the proposal were to end the GMP completely in 2014 – and make no mistake, there's a good case to be made for that, and it could certainly be approved by the voters – I'd have more sympathy for the smaller cities. Capping the payments at current levels in 2014 seems more than fair to me. We'll see how those public meetings go. Campos has more.
Related Posts: