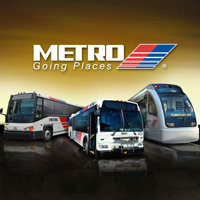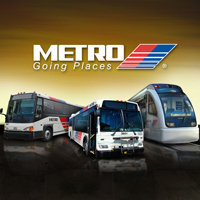 Metro Board member Christoph Spieler has said that Metro turns over 20 percent of its ridership each year, just due to the natural comings and goings of life. As such, Metro doesn't have to expend effort to persuade current non-users to give it a try in order to build ridership. It just needs to be a better option for the people whose life changes – turning 18, moving, different job, retiring, whatever – put them in a position to think about how best to get around for their daily routines. That's true enough as it goes, and ridership trends since the new bus network was unveiled have shown the wisdom of that approach, but I'm here today to convince you – and them – that they should try to recruit current non-riders. Naturally, I have a suggestion for how to do it as well.
My thinking on this started with a simple question: What is it that keeps people from using Metro in the first place? Obviously, it's not going to be viable for everybody, but for many people it's at least a possible choice. What is the main thing that keeps people from trying it to see how it might work for them, or to even think of trying it? Habit, convenience, and weather concerns would all be on the list, but if I had to guess, I'd say that most people think that taking transit to work or school will take significantly longer than driving will. Who wants to spend more time during the day getting to and from where you need to be?
And again, for some number of people, transit clearly isn't as good an option as driving. Maybe the don't live or work near a high- or medium-frequency bus line, or maybe they'd have to make multiple transfers. But for many others, especially those who work in the major employment centers, there's likely to be a transit option that will at least be reasonably comparable to driving. My suspicion is that for a lot of these people, they have no idea that this is true. If they did, some of them would consider transit. Perhaps some other people might take that information into consideration when they make their next move. But first, that information needs to be made available.
And even before that, this information needs to be discovered. Metro knows how long it generally takes its buses to get from point A to point B, but that's not the same thing. To make this data useful, it needs to tell the whole story, from point of origin to point of arrival, with walk time, wait time, and travel time all taken into account. Those numbers need to be computed multiple times, because on any one day a rider could catch a bus right away and not experience much traffic, or could have to wait to get picked up and then get caught at every light. And of course you want this for as many start-and-end combinations as possible.
The best way to do this is to crowdsource it. Metro has thousands of daily riders. Enlist them to tell their daily stories over, say, a two week period. Put out an app, or make an upgrade to an existing app, to track all the relevant data points. For example:
Time at which I left home.
Time at which I arrived at my initial bus/train station, and the name of said station.
Time at which I board my bus/train.
Time at which I arrive at my destination/transfer station, and the name of said station.
(If transferring: Time at which I board my next bus/train. Repeat previous step.)
Time at which I arrive at my office.
Meanwhile, challenge drivers to get the app and do the same thing. I've said before, I believe people often underestimate their real travel times. They only count the time they spend in the car, maybe only the time they're on whatever freeway or main road they take, but don't count how long it takes them to get to their office from their car, or how long it takes them to find a parking place. Which, in the case of major employment centers and big, sometimes off-site parking lots, can be longer than you think. One underrated aspect of transit (and bike riding, for that matter), is that transit stops can often be closer to office buildings than parking lots may be. That can save you a bit of time at one end or the other.
Give everyone who turns in two weeks' data a reward, say a month's worth of rides on their Q card, and an "I Took The Metro Trip Time Challenge" t-shirt or coffee mug. Maybe have weekly random drawings for other prizes, life restaurant or Starbucks gift cards. Do this over the course of a couple of months, then publish the data and see what happens. Maybe some direct comparisons will be available, and will be surprising. Whatever the case, the data will be interesting. It might provide the basis for a future advertising campaign designed to urge people to consider their options. Maybe it will speak for itself. Maybe it will highlight a need to improve some services. I don't know. But I'd love to find out, and I bet Metro would love to as well.
I should note that publicizing this study, and ultimately its results, should be easily done via social media. Facebook, Twitter, Instagram (does Metro have an Instagram account? If not, why not?), all the usual suspects. Just doing this ought to get Metro some positive attention, which would make it worthwhile all by itself. I don't see a down side to any of this. What do you say, Metro?
Related Posts: