Here's a pretty good indicator of what kind of day it was yesterday for Democrats: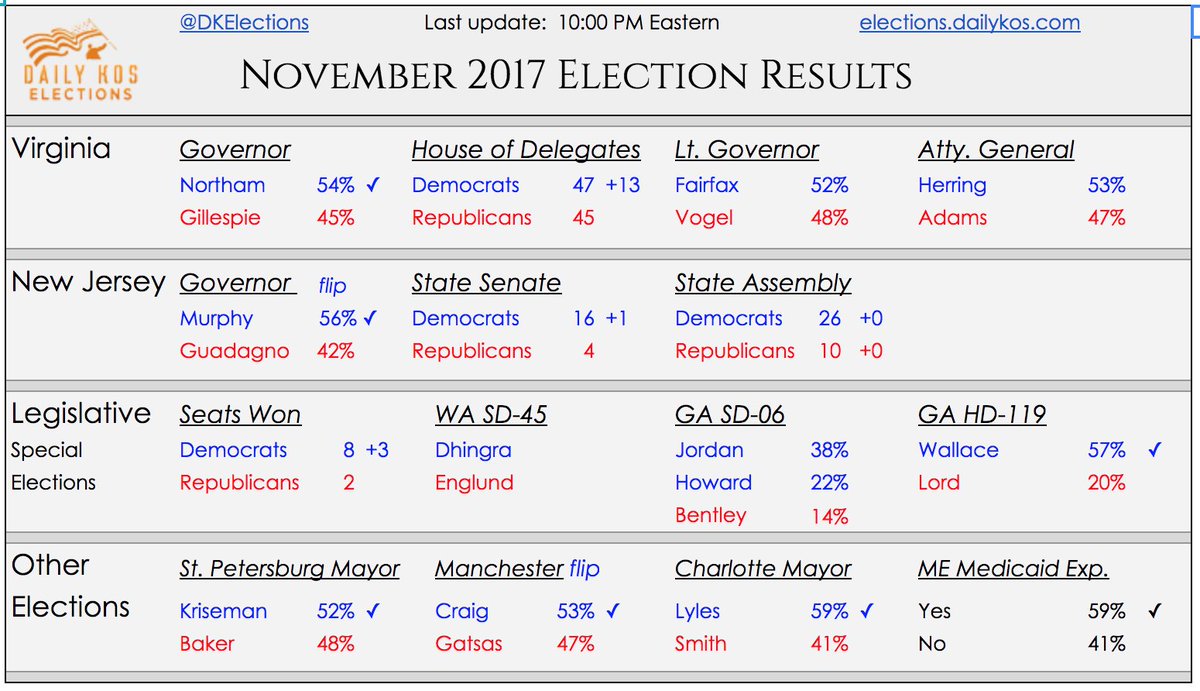 Big win in the Virginia Governor's race (and the other VA statewide races), despite a couple metric tons of pearls being clutched going into Tuesday. A minimum of 14 seats picked up in the VA House of Delegates, moving that chamber from 66-34 GOP to no more than 52-48, with chances for further gains. Oh, and the single best election result of the day:
Democrat Danica Roem will become the first openly transgender person to be elected and serve as a state legislator, after ousting one of the country's most anti-LGBT lawmakers in a closely watched Virginia House of Delegates race Tuesday. Her opponent, GOP Delegate Bob Marshall, has served in the state legislature for 26 years. He's known for writing Virginia's constitutional amendment banning gay marriage. This year he introduced a "bathroom bill"—intended to prohibit transgender individuals from using the restroom matching their gender identity; his own party killed that proposal in committee.

Roem isn't the first transgender candidate to win a legislative race, but she will be the first to actually take office. Her campaign focused on issues like fixing the "miserable" traffic on local highways, increasing teacher pay, and bringing jobs to the region. When I asked her last week about the historic nature of the race, Roem said that the truly historic development was that Route 28 will finally be fixed.

"Tonight voters chose a smart, solutions-oriented trans leader over a divisive anti-LGBTQ demagogue—sending a powerful message to anti-trans legislators all across the nation," Aisha C. Moodie-Mills, President & CEO of the Victory Fund, an organization dedicated to electing LGBT lawmakers that supported Roem's campaign, said in a statement. "Danica defeated 'Bigot Bob' Marshall not because she is transgender, but because she presented a positive vision for her constituents that will improve their lives."
Virginia isn't Texas, and that was a district that Hillary Clinton carried in 2016, but I have to think that a few anti-trans Republicans, maybe even here in this state, will take a look at that result and have a second thought or two. We need a whole lot more people to lose elections over being anti-LGBT.
Meanwhile, New Jersey elected a Democratic Governor and made gains in that state's legislature (both chambers of which Dems already controlled) as well. The state of Maine voted to expand Medicaid over the strenuous objections of their troglodyte governor. And there's this:
Pushback against Donald Trump helped lift Democrats to governorships in the two highest-profile U.S. elections since the 2016 presidential contest. In Virginia, voters by a 2-1 margin said they were casting their ballot to show opposition to Trump rather than support for him. In New Jersey the margin was nearly 3-1. And Trump's weak approval rating among voters in Virginia, 40 percent, was weaker still in New Jersey, a dismal 34 percent.

Relatedly, a surge in turnout by politically liberal voters boosted Virginia Lt. Gov. Ralph Northam, as did a broad advantage on health care, which voters by a wide margin identified as the top issue in the vote.
So, maybe being against Trump can be a winner? Just a thought. Yes, of course, you have to stand for something, and the Democratic brand needs some work on that. But Dems are really mad about what happened last year, and that was clearly enough to help push a bunch of them to the polls. I can't wait to see all the hot takes on this one.
Related Posts: