Hey, have you been wondering how early voting has gone in the primary runoffs so far? Well, wonder no more, for here is the daily report through Wednesday. You have today and tomorrow to vote early, and then you'll need to find a precinct location on Tuesday the 22nd. In the meantime, here's a look at how this year so far compares to past runoffs:

Year      March   Runoff    Pct
===============================
2018 R  156,387   24,172* 15.5%*
2018 D  167,982   24,567* 14.6%*

2016 R  329,768   39,128  11.9%
2016 D  227,280   30,334  13.3%

2014 R  139,703   96,763  69.3%
2014 D   53,788   18,828  35.0%

2012 R  163,980  136,040  83.0%
2012 D   79,486   29,912  37.6%

2010 R  159,821   43,014  26.9%
2010 D  101,263   15,225  15.0%

2008 R  171,108   40,587  23.7%
2008 D  410,908    9,670   2.4%

2006 R   82,989   10,528  12.7%
2006 D   35,447   13,726  38.7%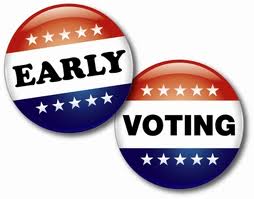 The starred 2018 values are incomplete, obviously. So what have we learned? One, there's basically zero correlation between primary turnout and primary runoff turnout. This shouldn't be a surprise, since in theory there need not be any runoffs in a given year. When there's a Dewhurst-Cruz or a Dewhurst-Patrick, you may have good runoff turnout. When there isn't – in 2008, the Dems had runoffs for Railroad Commissioner, a district court judge, and a Justice of the Peace; in 2010, they had three district court judges plus a JP – turnout falls off accordingly. Nor does turnout in either the primary or the runoffs predict November outcomes. Maybe that will begin to change, if Democrats have more contested primaries and put more emphasis on them. Maybe it will continue to be random. Ask me again in eight or ten years.
As far as 2018 goes, the Democratic edge comes from a nearly 2,000 vote advantage in absentee ballots. Republicans have had more in person voters each day, but not enough to close that gap. As is usually the case, I expect today and Friday to be heavier on the in person votes – I myself will be voting Friday – so we'll see if that pattern holds. Note that after three days of early voting, the Dem turnout level is already above the final totals except 2016 and 2012, and I think it's safe to say those will be topped when all is said and done. Again, there's no evidence to suggest this has mattered historically, but you can at least have all this in your back pocket for when you see the inevitable carping about runoff turnout. This is where we are now. I'll report back after the final EV totals are in.
Related Posts: