Day One of Week Two:

Year    Early    Mail   Total   Mailed
======================================
2015   73,903  23,560  97,553   43,279
2013   45,571  16,076  61,647   30,548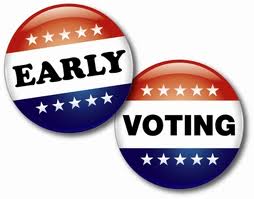 The running 2015 totals are here, the full 2013 totals are here, and for completeness the full 2009 totals are here. The second Monday in person totals for this year (12,895) are greater than for 2013 (7,643), but some of that may be leftover demand from the weekend. In addition, both this Monday and the second Monday of 2013 are just a smidge higher than the previous Fridays (11,705 this year, 7,110 in 2013). We continue to run well ahead of 2013, but I continue to wonder if we'll peak. That remains to be seen.
I don't get the daily rosters, but Greg does, and he provides a breakdown of the vote as of Sunday by Council district. Go look for yourself, but the takeaway is that as of the end of the first full week, the share of the vote coming from Districts B and E was higher than it was in 2013, and the share of the vote coming from District C is down. See this post of mine from 2013 to see how things shook out per district in 2013. Note that the 2013 totals Greg cites are final, end of voting numbers, whereas what we have now is just a week of early voting. It is entirely possible that C is just a little slower to get to the polls than some other districts – it's what the numbers are at the end that counts, after all – but this is worth watching. District B overlaps HD139, so it's fair to say this represents a bump from the Turner campaign. District E is likely to be more motivated by HERO than anything else, and not in the way I'd prefer. Note that even with these trends, the overall numbers from C and E are nearly identical, and history suggests the voters in C will show up. So we'll see.
Related Posts: