The state of Texas certainly doesn't.
If there was any hope that the state was seeking a compromise with the federal government over Texas' Women's Health Program, it's fading fast. At the direction of lawmakers and Texas Attorney General Greg Abbott, the Texas Health and Human Services commissioner signed a rule on Thursday that formally bans Planned Parenthood clinics and other "affiliates of abortion providers" from participating in the program — something the Obama administration has said is a deal-breaker for the nearly $40 million-per-year state-federal Medicaid program.

"The Obama administration is trying to force Texas to violate our own state laws or they will end a program that provides preventative health care to more than 100,000 Texas women," said Allison Castle, a spokeswoman for Gov. Rick Perry. "This boils down to the rule of law — which the state of Texas respects and the Obama administration does not.

The rule, signed by Commissioner Tom Suehs on Thursday, takes effect March 14. Unless some last-minute agreement is brokered, the program, which receives $9 in federal funds for every $1 in state funds, will be either phased out or cut off by the end of March. At least 130,000 poor Texas women will lose access to cancer screenings, well-woman exams and contraception.

"No one's politics should interfere with a woman's access to health care," said Planned Parenthood Gulf Coast President and CEO Peter J. Durkin. "It is shameful that Governor Perry and Commissioner Suehs continue to politicize lifesaving breast cancer screenings and birth control access for low-income women."

Republican lawmakers worked overtime last legislative session to design language that would keep any Planned Parenthood-affiliated clinics from receiving state family planning and women's health dollars, despite the fact that taxpayer-funded clinics may not perform abortions. They got the backing of Abbott, who said their efforts were legal, and gave the state's health commissioner the go-ahead to implement the new language.

But when Texas was faced with renewing the Women's Health Program this year, officials with the U.S. Department of Health and Human Services said the state's plans violated the Social Security Act. They gave the program a three-month extension, but said they had no intention of renewing if Planned Parenthood, which provides 44 percent of the program's services, was blacklisted.

The stalemate appears unbreakable — Republican lawmakers have made clear they'd rather forgo the program and the federal money than allow Planned Parenthood to participate.
I don't know how much more evidence you need to conclude that the state's jihad against Planned Parenthood is about much more than abortion. It's rich to see Perry and Abbott try to direct what the feds can do with their money, since they get their noses so far out of joint when it's the other way around. Ironically, this happened on the same day that the state joined a lawsuit challenging the rule that would require all employers to include coverage for contraceptives in employees' health care benefits. That charge is being led by the Catholic bishops, all of whom as far as I could tell were silent on the prospect of 130,000 women losing access to health care in Texas. As State Rep. Garnet Coleman points out, nearly half of all births in Texas are paid for with Medicaid. What will happen to these women and their babies? The state of Texas and the Catholic bishops don't care. They have an ideology to pursue.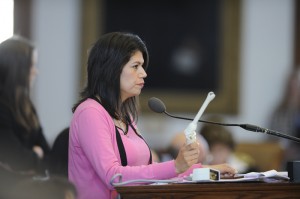 In related news, a number of people suddenly noticed last week that Texas' sonogram law is pretty much the same as the one in Virginia that got derailed after drawing national attention. Texas' law, on the other hand, got little to no national notice despite fierce resistance here from those who saw this law as the degradation and humiliation of women that it is. We can stare at our navels all day trying to figure out why that is, but it's really not so hard to understand. It's about winning elections. Until Democrats start winning more of them, and in particular until they win a high profile one because of an issue like this, this is what we're going to get. As with every other issue we talk about here, nothing changes until the people we elect to our government change. Neil, Rachel, and Burka have more. Be sure to read through the comments for a pained defense of his legislation by Sen. Dan Patrick and some good responses to him.
Related Posts: