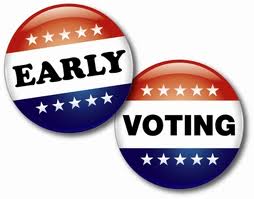 Today we arrive at the more action-oriented part of the election cycle, in which voting actually happens. Early voting starts today and runs through next Friday, November 1. Here's the schedule and map of locations for Harris County. Check with your County Clerk or Election Administrator for locations elsewhere. Hours for early voting this Monday through Friday are 8 to 4:30, and next week will be 7 AM to 7 PM.
As you know, I like to track the daily early voting numbers, to get a feel for who might be voting and what final turnout might look like. My last daily EV total post from 2011 is the reference point for the start of early voting this year. For your convenience, here are daily totals from previous years:
I'm sure I will come back to these links frequently. In the meantime, feel free to make your guesses about turnout, results, or whatever else you'd like to prognosticate on in the comments.
Of course the big difference this year is that the voter ID law is currently in effect. Litigation is ongoing – I'll have a separate post on where that stands later this week – but as there were no motions filed for an injunction or restraining order against it for this November election, you will need to bring the kind of ID the state has mandated with you. Got ID Texas is a great resource for that, and Sen. Leticia Van de Putte wrote a good guide to the law, mirrored on BOR. A press release from the Harris County Clerk is beneath the fold. If there's one message you need to take from this, it's that no matter what they tell you, CAST YOUR VOTE! If they tell you that you need to bring ID later on to (in Harris County's case) a Tax Assessor's office so your vote will not be considered provisional, do it. But under no circumstances should you walk away without voting, and if anyone tells you otherwise, call the County Clerk, the Secretary of State, and if you're a Democrat the HCDP to let them know about it.
We don't know what the effect of the voter ID law will be on turnout and composition of the electorate. One thing I know I'll be watching for is the amount and location of provisional votes. I believe one reason why there wasn't an injunction sought against the voter ID law was that the plaintiffs wanted to see what those numbers looked like, too. Maybe this will turn out to be less of a big deal than we fear, and maybe it will be worse. One way or another, we'll find out.
So go forth and vote. If you do vote today, please leave a comment telling us where you voted, how crowded it was, and what your observations were regarding voter ID enforcement. Happy voting!
Harris County Clerk Stan Stanart is alerting voters of a significant voting related change for the November 5th Election. "Due to a change in Texas Election law, all voters are now required to provide one of the seven types of photo IDs when voting in-person," informed Stanart. "I urge voters to come prepared with one of the required photo ID to the polls."
The state approved photo IDs for voting include:
· Texas driver license issued by the Texas Department of Public Safety (DPS)

· Texas Election Identification Certificate issued by DPS

· Texas personal identification card issued by DPS

· Texas concealed handgun license issued by DPS

· United States military identification card containing the person's photograph

· United States citizenship certificate containing the person's photograph

· United States passport

With the exception of the U.S. citizenship certificate and some military identifications, the ID must be current or have expired no more than 60 days before being presented at the polling place. Voters may apply for an Election Identification Certificate (EIC) at no charge at the Department of Public Safety (DPS) if they do not have any other acceptable form of ID. Requirements to apply for an EIC can be found at http://www.txdps.state.tx.us/DriverLicense/electionID.htm.

If a voter is 65 or older, or are disabled, they are entitled to apply for a ballot by mail. In most cases, they will not need to provide photo identification when voting by mail. October 25, 2013 is the last day for Harris County to receive an application for a ballot by mail (received, not postmarked). To obtain an application to vote by mail, voters may contact our offices at 713-755-6965 or visit www.HarrisVotes.com.

Stanart also informed voters that the number of early voting location in Harris County has increased from 37 to 40. "As the result of a steady increase in the number of voters who choose to vote early, we are adding three new locations to better serve the voters of Harris County." concluded Stanart, the chief election official of the county. The period for Early Voting by Personal Appearance starts Monday, October 21 and ends, Friday, November 1.

For more information about photo ID requirements including exemptions, visit www.votetexas.gov. To obtain a list of Early Voting locations, Election Day Polling Location or view a voter specific sample ballot, voters can also visit www.HarrisVotes.com or call 713-755-6965.
Related Posts: