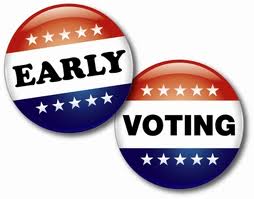 Here's the map. Note that only City of Houston locations are open, since the only runoffs are for City Council and HCC Trustee. Early voting runs from today through next Tuesday, December 10, from 7 AM to 7 PM each day except for Sunday the 8th, when it is from 1 to 6 PM. Odds are pretty good you won't encounter any lines whenever you go to vote. Remember that precinct locations are likely to be heavily consolidated on Runoff Day itself, December 14, so voting early will avoid confusion for you.
All City of Houston voters will have at least two races on their ballot, the two At Large runoffs. There are also runoffs in Districts A, D, and I, plus the three HCC Trustee runoffs, in HCC 1, 3, and 5. I will say again, if you live in HCC 1 I strongly urge you to vote for Zeph Capo. Let's limit the number of friends Dave Wilson has on the board.
Here are the interviews I conducted with the various runoff candidates:
At Large #2
CM Andrew Burks
David Robinson
At Large #3
Michael Kubosh
Roy Morales
District A
CM Helena Brown
Brenda Stardig
District D
Dwight Boykins
Georgia Provost
District I
Robert Gallegos
Graci Garces
HCC 1
Zeph Capo
Get out there and vote, y'all. A press release from the Harris County Clerk is beneath the fold, and Hair Balls has more.
Early voting in-person for the December 14th Runoff Election gets underway Wednesday, December 4th and continues till Tuesday, December 10th. The Runoff Election will decide who will represent five positions on the Houston City Council and three positions on the Houston Community College System Board of Trustees.

"Voters should take advantage of Early Voting before preparations for the Christmas Holiday activities consume their focus," advises Harris County Clerk Stan Stanart, Chief Election Official of the county. "Keep in mind, Election Day for this runoff election takes place on Saturday, December 14th, eleven days before Christmas."

For the duration of the Early Voting Period, all early voting locations will be open from 7 a.m. to 7 p.m., except Sunday, December 8th, when early voting will be from 1 to 6 p.m. There are 22 early voting locations available throughout the City of Houston for all voters.

Stanart reminds voters to bring Photo ID to the polls stating, "Texas law requires voters to present one of seven types of photo IDs when voting in-person in all elections. I urge voters to come prepared with one of the required photo IDs to the polls."

The state approved photo IDs for voting include:

· Texas Driver's License issued by the Texas Department of Public Safety (DPS)

· Texas Election Identification Certificate issued by DPS

· Texas Personal Identification Card issued by DPS

· Texas Concealed Handgun License issued by DPS

· United States Military Identification Card containing the person's photograph

· United States Citizenship Certificate containing the person's photograph

· United States Passport

With the exception of the U.S. citizenship certificate and some military identifications, the ID must be current or have expired no more than 60 days before being presented at the polling place. For more information about the photo ID requirements visit www.HarrisVotes.com.

Stanart also reminds voters, "A voter must be registered to vote in the City of Houston or the Houston Community College district in order to participate in this Runoff Election."

To obtain a list of Early Voting locations, Ballot-By-Mail applications, Election Day Polling Locations or to view a voter specific sample ballot, voters can visit www.HarrisVotes.com or call 713-755-6965 to find all of this information and more.
Related Posts: