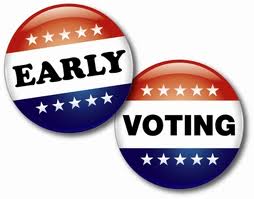 Here are your final early voting numbers for the Republican and Democratic primary runoffs in Harris County. Note that in both cases, mail ballots have accounted for the majority of the total so far: On the Dem side, there have been 10,913 mail ballots to 10,364 in-person votes, and for the Rs it's 15,297 to 12,742. For that reason, I don't expect Tuesday's results to provide a big boost to turnout, though there are still plenty of people who could vote if they wanted to. We'll see how good a job the campaigns do at getting their people out.
There are two legislative runoffs in Harris County. In the increasingly nasty HD128 runoff between Republican incumbent Wayne Smith and challenger Briscoe Cain, the effect can be seen in the daily totals from the County Clerk. There were 1,858 in person votes in HD128, nearly double the amount of the next busiest district. It's more muted on the Democratic side, where 932 people have shown up to pick between Jarvis Johnson and Kimberly Willis. That total trails HDs 146 (984) and 142 (949), not to mention the 1,012 votes cast at the West Gray Multi-Service Center. Of course, the dailies from the Clerk are for in person votes only. We won't know how many absentee ballots have been cast in each district until Tuesday night.
Speaking of Jarvis Johnson, I could swear I saw a story late last week saying he had been sworn into office after his win in the May 7 special election to fill the remainder of now-Mayor Sylvester Turner's term, but if so now neither Google nor I can find it. Johnson did pick up Mayor Turner's endorsement for the primary runoff last week, and he has been endorsed by the Texas AFL-CIO COPE as well. Kimberly Willis has the support of the Texas Parent PAC, but not as far as I can tell Annie's List. The Houston GLBT Political Caucus did not make an endorsement in this runoff.
Outside of Harris County, you know about the HD27 runoff. The other legislative runoff of interest is in HD120, where candidate Barbara Gervin-Hawkins (who is endorsed by Annie's List) kicked up a bit of a fuss with labor by appearing to give support to "right to work" laws at a candidate forum. That cost her one endorsement she's previously received; you can read Express News columnist Gilbert Garcia for the details. By the way, the basically useless special election to fill the unexpired term in HD120, which involved four people who are not in the primary runoff, will have its runoff election on August 2. Lord help us all.
Finally, in the Republican runoff for State Board of Education, District 9, Mary Lou Bruner, this cycle's winner of the Biggest Idiot Who May Actually Get Elected To Something award, may have inadvertently demonstrated that even in a Republican primary runoff for SBOE in East Texas, there are some limits on stupidity. Maybe. That's not a proposition I'd want to bet my own money on, but we'll see. SBOE 9 did elect Thomas Ratliff once, so there is hope and precedent. Ask me again on Wednesday.
Related Posts: