Here it is, in all its glory. I encourage you to look at the draft plan and play with the interactive map. Then, when you start to feel overwhelmed and wish someone would explain it all to you, go read Raj Mankad's story in Offcite, which does exactly that.
The last time Houston made a bike plan was 1993. Many of the streets declared official bike routes then are among the least safe places to bicycle. Take Washington Avenue. Every few hundred feet, a yellow sign with an image of a bicycle declares "Share the Road." The street, however, has no dedicated bicycle path — not even a narrow one. Cars race down the 12-foot-wide lanes feebly painted with ineffectual "sharrows" that have faded from the friction of tires. Only "strong and fearless" cyclists, who represent less than one percent of the total population, attempt such routes.

The signage on Washington is visual clutter, or worse. It sends the wrong message to potential cyclists, according to Geoff Carleton of Traffic Engineers. If the city designates a route for bicycling, he says, it should be comfortable enough for "enthused and confident" riders, not just the spandex-clad racers in pelotons. Ultimately, says Carleton, a city's bike facilities fail unless they can reassure the largest segment, as much as 65 percent of the total population, of potential cyclists: those who self-identify as "interested but concerned." (The other group is the "no-way no-hows.")

The Houston Bike Plan, a new draft released by the City of Houston, details just such a future. Made public and presented to the Planning Commission, the plan was crafted by Traffic Engineers, Morris Architects, and Asakura Robinson, a team comprising most of the designers behind METRO's New Bus Network, a dramatic reimagining and restructuring that's receiving national attention for its success. A grant to BikeHouston from the Houston Endowment provided part of the $400,000 budget for the new plan with additional funds coming from the City, Houston-Galveston Area Council, and the Houston Parks Board.

The process involved extensive community outreach across class, race, gender, and ethnicity, as well as a study of all existing plans made by the city, management districts, parks, livable center studies, and neighborhood groups. The resulting draft is more a fresh start than an elaboration of the 1993 precedent.

The plan begins with an assessment of where we are today and makes distinctions between high- and low-comfort bike lanes. Only the high-comfort routes are kept in the plan moving forward.

As the plan's introduction states, Houston has "made great strides in improving people's ability to bike to more destinations." The plan also notes changes in attitude and ridership levels, calls out "Sunday Streets … a great example of encouraging more people to get out and be active on Houston streets." The most substantial improvement comes by way of Bayou Greenways 2020, the 150 miles of separated trails and linear parks along the bayous. (See our coverage of the 2012 bond measure funding this project, the progress of its construction, and the transformative impact it could have on our region.)

Approximately 1.3 million people — six out of 10 Houstonians — will live within 1.5 miles of these bayou trails when they are completed, but traversing those 1.5 miles can be a major challenge. When you map out this and other projects in the works, you see islands of bicycle-friendly territory and fragments of high-comfort bicycling facilities. Because the bayous run east-west, a lack of north-south routes could leave cyclists alone to contend with dangerous traffic and car-oriented infrastructure.

"If we do nothing beyond what is already in progress, we will have 300 miles of bikeways," says Carleton, "but it won't be a network." Thus, the draft plan focuses on links that would build that network.

Ultimately, the vision is for Houston to become by 2026 a Gold Level Bicycle Friendly City according to the standards of the League of American Bicyclists. Currently, the city is Bronze Level.

Here, the plan is broken down into three phases: 1) Short-Term Opportunities, which could solve problems quickly and relatively inexpensively; 2) Key Connections, which are high-impact improvements that would require more investment; 3) Long-Term Houston Bikeway Visions, which are true transformations of infrastructure that would require substantial investments of money, time, and labor. Below, we look at each stage as a whole and at few routes in particular as examples.
Go read the fuller explanation of what those things mean, then look at the map to see where they fit in. A lot of the short-term opportunities include finishing the planned trails along the bayous and taking advantage of streets that have more capacity than traffic to turn a lane into a dedicated bike line like what we have on Lamar Street downtown.
Here's a snip from the map that I took, which focuses on the parts of this plan that most interest me. Green lines are off street, blue lines are streets with dedicated bike lanes, and fuscia represents streets where bikes and cars can coexist in reasonable fashion. The thicker lines are what exists now, and the thinner lines are what's in the plan. I've filtered out the long-term visions, so what you see are the short term and key connection opportunities: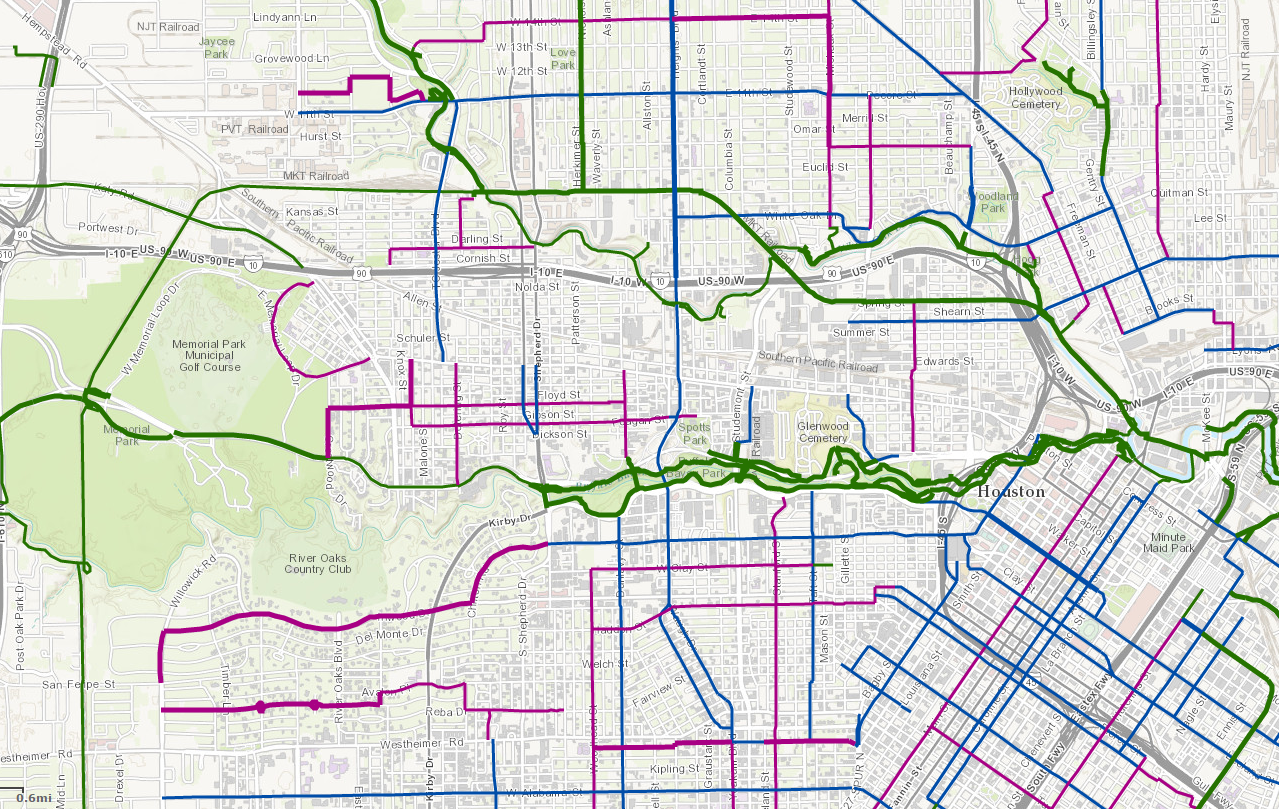 A few points of interest:
– Note the continuation of the MKT Trail due west at TC Jester (it currently continues along the bayou), following the existing railroad tracks, then turns south through Memorial Park and on down, via the existing CenterPoint right of way. I think all of that is included in that 2012 bond referendum, but don't hold me to that. Note also the connection from Buffalo Bayou Park to Memorial Park, which just makes all kinds of sense.
– The blue line that runs north-south is at the top the existing bike lane on Heights Blvd, which then continues on to Waugh, serving as a connection to the Buffalo Bayou trail. I've noted before how while I'd like to be able to bike that way, it's just too hairy once you get south of Washington Avenue on Heights. As Raj notes in his story, this would involve some road construction to make it happen, but boy will that be worth it.
– Other blue east-west bike lane additions include (from the bottom up) Alabama, West Dallas/Inwood (connecting to an existing on-street path), Winter Street, White Oak/Quitman (a convenient route to the North Line light rail), and 11th Street/Pecore. I can testify that there is already a bike lane drawn on Pecore east of Michaux, but it needs some maintenance. 11th Street west of Studemont can have some heavy car traffic – people regularly complain how hard it is to cross 11th at the Herkimer bike trail – so I'll be very interested to see how the plan aims to deal with that.
– Downtown is in the lower right corner of the picture, with Polk and Leeland streets targeted for connecting downtown to EaDo, and Austin and Caroline streets for downtown to midtown. These will no doubt be like the existing Lamar Street bike lane, where the main investment will be in paint and those big raised bumps.
Those are the things that caught my eye. Again, I encourage you to look it all over. The short term and key connection opportunities are fairly low cost all together, with some of the funds likely coming from the 2012 bond and the rest from ReBuild Houston. From Chapter 6 of the plan, on Implementation:
While a significant number of projects have dedicated funding identified for implementation over the next five years, including projects in the City's CIP and the Bayou Greenways 2020 projects, the City of Houston budget projections indicate that there will be challenges in identifying additional resources, either in personnel, capital, or operations and maintenance to advance many additional components of the plan forward in the near term. Opportunities to leverage existing resources to meet the goals of the plan are important. Additional resources will likely need to be identified to implement many of the recommendations in the HBP in addition.
The Mayor's press release identifies some of the funding sources being used now for this. Take a look, see what you think, and give them feedback. The draft plan exists because of copious public input, and that input is still needed to take this to completion.
Related Posts: