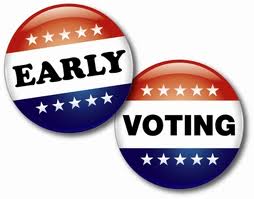 Tomorrow is the first day of the nine-day early voting period for the May 6 election. I've generally not paid a great deal of attention to these May elections, but it's safe to say that This Time It's Different, and not just because I myself have an election to vote in. The people who live in the following political jurisdictions in Harris County have a reason to vote as well: City of Humble, City of Pasadena, Houston Independent School District, Humble Independent School District, Northgate Crossing Municipal Utility District 2, Northwest Harris County Municipal Utility District 28, Oakmont Public Utility District, Harris County Water Control & Improvement District 91. You can see the locations and schedule for Harris County early voting here.
Note that there are other elections within Harris County that are not being conducted by the Harris County Clerk. This means that they have their own polling places and early voting schedules, which may or may not include Saturday the 29th and Sunday the 30th. Among them are:
Pasadena ISD – a list of their candidates with a link to their 30 day finance reports is here.
Katy ISD – see their list of candidates here.
San Jacinto College – locations and schedules are here, list of candidates is here.
City of Katy, which also has some charter amendments. Here's some information about their candidates for Mayor and City Council Ward B. There was no election held in Katy in 2015 because no one filed to run against any of the incumbents, so they decided not to bother with it.
Other elections of local interest are in Fort Bend County and Brazoria County. For Fort Bend, note that the different locations have different hours, with some of them being open each day while some others are not. Check the links before heading out.
And of course there's the HISD recapture re-vote. I am voting for recapture and recommend you do the same. The No vote last November accomplished what I hoped it would. Now is the time to move forward.
So there you have it. There are other elections around the state, the most interesting of which is surely the San Antonio Mayor's race in which incumbent Ivy Taylor is seeking a second full term, but these are the local races of interest that I know of. Most of these elections get comically low turnout, so your vote counts for a lot if you actually go an cast it. We'll see if it really is different this year or not.
Related Posts: