From the inbox: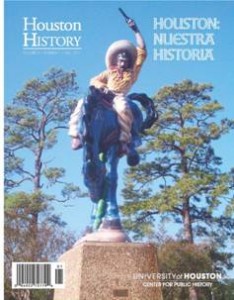 Join Council Members Ed Gonzalez, Melissa Noriega, and James Rodriguez, and State Representatives Carol Alvarado and Jessica Farrar for the launch of
Houston History Magazine
 Fall 2011 Issue
Tuesday, December 6
 5:30-7:00PM
Sombreros (formerly Velia's)
2910 Navigation Blvd.
(Map)
Meet the Authors and Enjoy Sweet Treats
The University of Houston Center for Public History's "Houston: Nuestra Historia" focuses on the history of Mexican Americans in Houston, an often neglected area of discussion. Because Houston was not established as a Spanish colonial city, its history as one of Texas's Mexican American communities is often overlooked. This issue focuses on community organizations, culture, politics, and education, all issues that are of great importance to the ethnic Mexican community in Houston.
Please RSVP to Kristin Deville by email or by calling 713-743-3087.
Related Posts: