And I've been too busy to post these on a daily basis, much less do anything with them. I apologize for that, but can't make any promises that next week will be better. Stay strong.

Year    Early    Mail   Total   Mailed
======================================
2019   55,937   6,799  62,736   26,105
2015   61,008  21,141  82,149   42,938
2013   37,928  14,342  52,270   30,544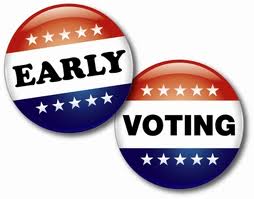 The 2019 Day Seven file is here, the final 2015 file is here, and the final 2013 file is here. The daily voter rosters are here.
With a full week of early voting in the books, I'm willing to do a little back-of-the-envelope guesswork on final turnout. In 2015, 421K people turned out in Harris County, while in 2013 the figure was 260K. In each case, that means roughly 20% of the final total vote had been cast as of Sunday. That's Harris County overall – in 2015, the share of the total vote in the city of Houston was 64%, and in 2013 it was 65%. Projecting from there, we get a final Harris County total turnout of about 313K for this year, and about 203K for the city of Houston. That's on the low end of what I would have suggested for Houston a couple of weeks ago, but not crazy given what we've been seeing. All of this is subject to change – maybe the next week of early voting will be busier, or maybe it will drop off – but for now put the over/under in the Mayor's race at about 200K. Ask me again on Friday and I'll let you know if I still feel that way.
Related Posts: