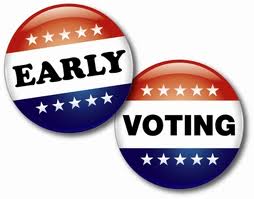 Here's the map. Note that only City of Houston locations are open, since the only runoffs are for City Council and HCC Trustee. Early voting runs from today through next Tuesday, December 10, from 7 AM to 7 PM each day except for Sunday the 8th, when it is from 1 to 6 PM. Odds are pretty good you won't encounter any lines whenever you go to vote. Remember that precinct locations are likely to be heavily consolidated on Runoff Day itself, December 14, so voting early will avoid confusion for you.
All City of Houston voters will have at least two races on their ballot, the two At Large runoffs. There are also runoffs in Districts A, D, and I, plus the three HCC Trustee runoffs, in HCC 1, 3, and 5. I will say again, if you live in HCC 1 I strongly urge you to vote for Zeph Capo. Let's limit the number of friends Dave Wilson has on the board.
Here are the interviews I conducted with the various runoff candidates:
At Large #2
CM Andrew Burks
David Robinson
At Large #3
Michael Kubosh
Roy Morales
District A
CM Helena Brown
Brenda Stardig
District D
Dwight Boykins
Georgia Provost
District I
Robert Gallegos
Graci Garces
HCC 1
Zeph Capo
Get out there and vote, y'all. A press release from the Harris County Clerk is beneath the fold, and Hair Balls has more.